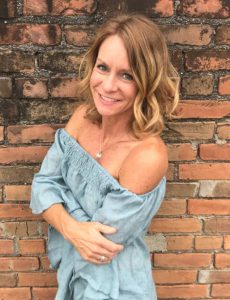 Mommysavers.com was conceived in early 2000 while its founder, Kimberly Danger, was home on maternity leave after having her daughter.  "Staying home was new to me, and I found myself with tons of creative energy, but very little money.  I had just created a personal web page to share baby photos with friends and family — and loved doing it!  At the same time, I was researching ways to save money after giving up my full-time job.  I found a lot of great tips and suggestions for parents to save money, earn extra money, find great bargains and live on one income.  However, I didn't find them all the same place.  I wanted to create a website like the one I had looked for.  So, I set out to build a website with tips and bargains finds in one easy location."
Mommysavers started with an online discussions board, then grew to a collection of tips in a full-fledged website.  As the site grew, Kim was approached in 2005 to write a book with her tips, and 1000 Best Baby Bargains was published.
The Mommysavers Mission: The Mommysavers mission is to help moms live well for less.  We want to give you the tools to live a rich, fulfilled life while on a budget or living on one income.  Our site includes all of the great money-saving tips and ideas we've collected from real moms over the past few years.  We also run articles that help you learn great money-saving techniques and also enrich your lifestyle.  At Mommysavers.com, we strive to share the best money-saving tips we find, and only bring you the best deals on the web.
About Author and Frugal Spokesperson Kimberly Danger:  Mommysavers' creator Kimberly Danger holds a degree in Business Administration/Marketing from Minnesota State University, Mankato.  She has been helping moms save time and money through her website, Mommysavers.com, since March 2000.  Her most recent books, Instant Bargains:  600+ Ways to Shrink Your Grocery Bills and Eat Well for Less and The Complete Book of Baby Bargains were released in 2010.
Kim has appeared on dozens of morning talk shows, including Anderson Cooper.   She has been a brand ambassador/spokesperson for Coupons.com, Uniroyal Tire's "More Mileage for Your Money" Campaign, and has extensive TV, radio and podcast experience in sharing her frugal, money-saving tips for parents.  Kim lives with her husband and two kids in Southern Minnesota.  She has a passion for health and fitness as well,  and in 2014 started a holistic health blog called beachreadynow.com.  Media can contact her at [email protected]