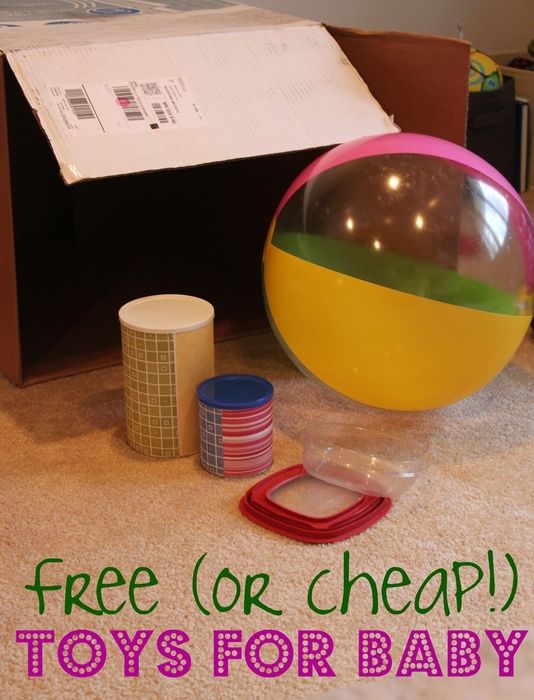 Let's face it, babies don't need expensive toys to entertain themselves.  Many of us grew up playing in the Tupperware drawer and stacking measuring cups.  Don't buy into the notion that your child needs a lot of toys, especially expensive ones.  Save your money for later, when they can talk and actually know the difference between a ice cream pail drum and a real one.
Plastic Containers – Rubbermaid or Tupperware containers and their lids are fun for babies to play with.
Old Plastic Bottles – An old dish soap bottle can be fun to use in the tub for squirting games
Measuring Cups – Plastic measuring cups can be used as stacking toys
Beach Ball – Chances are you may already have one of these, but if you don't – look at your local Dollar Store.  It can be a challenge for your baby to try to grab it, which can entertain him or her for quite some time.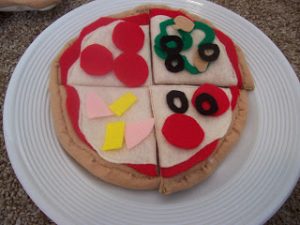 Felt Food Set –  When you get food sets for baby in the store, they're pretty expensive.  However, when you make a felt set at home, not so much.  I love this pizza one! Here are our instructions for making this and other felt food sets for baby
Boxes – It doesn't get much simpler than this, but crawling babies love to play with boxes.  As your baby grows into a toddler, you even look for larger boxes you can convert into mini playhouses.
Ice Cream Pail or Oatmeal Container Drum – Wrap your oatmeal containers with brightly colored contact paper and you've got a cute drum.  Wooden spoons serve as the drumsticks.  Nut containers also work well for this.
Homemade Play Dough – For older babies and toddlers, homemade play dough can be fun to play with and squish through their fingers.  Here's our Homemade Play Dough Recipe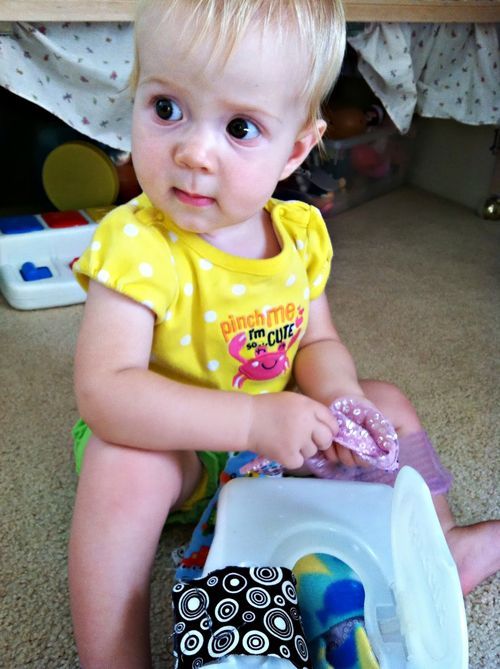 Magic Wipes Container – Save those baby wipes containers!  If you insert some brightly colored fabric squares, tied end to end, they become magic!  Use fabric scraps for this to make it even more frugal.
Homemade Rattle – You can make a homemade and colorful rattle by taking a small, clear plastic water bottle and filling it with interesting, colorful items like tinsel, a bell, ribbon, pipe cleaners, fabric pieces, etc.  Use your imagination and look at what you have around the house.  Seal the bottle cap tightly and/or add a little bit of glue to make sure it doesn't come off.
Discovery Jug – If you have a gallon milk jug, you have the basis for this toy.  Make sure you rinse it well with hot water and let it thoroughly dry first.  Then, cut a large hole in the side so baby can take things in and out of it.  Think blocks, large Lego Duplo pieces, felt pieces, and so on.
Rain Sticks – Use your empty wrapping paper tubes for this toy, cutting in thirds.  Next, gently tap nails through the paper tube as pictured below.  Cover one end by layering packing tape to seal. Insert beans or rice, something that will make a cascading sound as baby tilts the stick.  Cover with brightly colored contact paper or Washi tape.  Source: The Imagination Tree