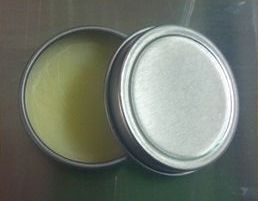 Winter weather is here, and so is cold weather and cracked lips.  Here's a fun DIY Lip Balm project you can do in less than half an hour.  The result is a rich, hydrating balm for yourself and others to give as gifts.
Homemade Lip Balm (Like Burt's Bees) Supplies:
All the supplies are available on Amazon.com.
Homemade Lip Balm Instructions:
Melt beeswax, shea butter and coconut oil in a double boiler or small glass bowl over a small pot of boiling water, stirring constantly until melted.
Remove pan from heat but keep over the still-hot water to keep the mixture melted.
Add your favorite essential oils.  I like peppermint, but you could easily add any other scent you like.
Once you've added the essential oils, fill the tins with the lip balm. This must be done quickly since the mixture will start to harden as soon as it is removed from the heat.
Let the lip balm sit at room temperature for several hours until cooled and completely hardened.