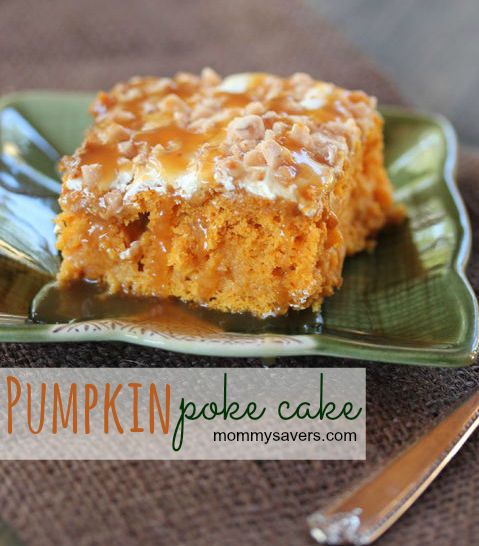 Ingredients:
2 eggs, separated

¼ C. vegetable oil
¾ C. water
1 tsp. baking powder
7.5 ounces canned pumpkin
14 ounces Pumpkin Quick Bread Mix or spice cake mix
7 ounces caramel sauce
¾ C. evaporated milk
¾ C. Heavy Whipping Cream
½ tsp. Vanilla
¼ tsp. salt
2 C. Whipped Topping or Heavy Whipping Cream, whipped (optional)
Heath bar crunch bits for topping (optional)
Directions:
Preheat oven to 350°. Coat an 8×8-inch square baking dish with nonstick cooking spray.
In a medium bowl, beat egg whites until soft peaks form; set aside.
In another medium bowl, whisk egg yolks until smooth. Add oil, water, baking powder and canned pumpkin; whisk to combine. Add pumpkin bread mix and mix well with a wooden spoon.
Use a spatula to gently fold egg whites into pumpkin mixture until well incorporated. Do not over mix.
Pour into prepared pan and bake for 35-40 minutes or until a toothpick remains clean when inserted in the center of the cake.
Meanwhile, in a medium bowl, whisk together caramel, evaporated milk, heavy cream, vanilla and salt.
Let cake cool in pan for 10 minutes.
Invert cake onto a wire rack. Set inside a rimmed baking sheet. Poke holes all over top of cake with a toothpick. Slowly drizzle half of sauce mixture over cake, pausing to allow mixture to soak into cake. Let cake sit for at least 10 minutes.
Place a plate (with a rim, to catch any liquid) on top of cake and flip to invert cake onto plate. Slowly drizzle cake with remaining sauce.
Cake can be served warm or chilled. If desired, top each serving with whipped cream and a drizzle of additional caramel and/or Heath crunch bits.