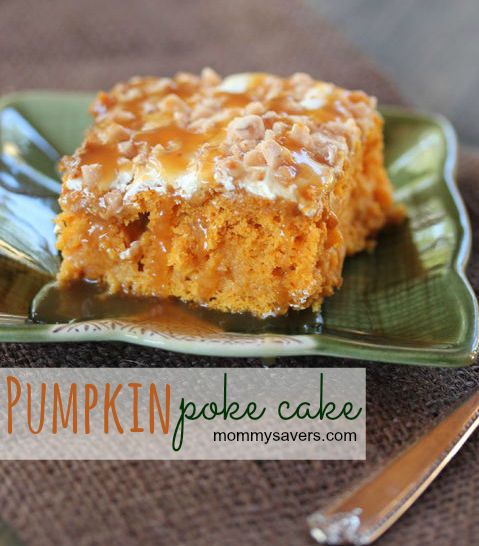 The Origins of This Pumpkin Poke Cake
Pumpkin desserts are some of my favorite heartwarming traditions of fall. This recipe comes from our forum and is tested and true.  Whether using fresh pumpkin puree or canned pumpkin, the result is a flavorful cake that possesses true autumn charm.
Ingredients:
2 eggs, separated
¼ C. vegetable oil
¾ C. water
1 tsp. baking powder
7.5 ounces canned pumpkin
14 ounces Pumpkin Quick bread Mix or spice cake mix
¾ C. evaporated milk
¾ C. Heavy Whipping Cream
½ tsp. Vanilla
¼ tsp. salt
2 C. Whipped Topping or Heavy Whipping Cream, whipped (optional)
Heath bar crunch bits for topping (optional)
Directions:
Preheat oven to 350°. Coat an 8×8-inch square baking dish with nonstick cooking spray.
In a medium bowl, beat egg whites until soft peaks form; set aside.
In another medium bowl, whisk egg yolks until smooth. Add oil, water, baking powder and canned pumpkin; whisk to combine. Add pumpkin bread mix and mix well with a wooden spoon.
Use a spatula to gently fold egg whites into pumpkin mixture until well incorporated. Do not over mix.
Pour into prepared pan and bake for 35-40 minutes or until a toothpick remains clean when inserted in the center of the cake.
Meanwhile, in a medium bowl, whisk together caramel, evaporated milk, heavy cream, vanilla and salt.
Let cake cool in pan for 10 minutes.
Invert cake onto a wire rack. Set inside a rimmed baking sheet. Poke holes all over top of cake with a toothpick. Slowly drizzle half of sauce mixture over cake, pausing to allow mixture to soak into cake. Let cake sit for at least 10 minutes.
Place a plate (with a rim, to catch any liquid) on top of cake and flip to invert cake onto plate. Slowly drizzle cake with remaining sauce.
Cake can be served warm or chilled. If desired, top each serving with whipped cream and a drizzle of additional caramel and/or Heath crunch bits.
Creative Variations to Spice Up Your Pumpkin Poke Cake
Looking to elevate your pumpkin poke cake? Here are some creative variations to tantalize your taste buds:
cream cheese Dream: Adding a Tangy Twist
For a tangy and creamy twist, consider incorporating cream cheese into your pumpkin poke cake. Prepare a cheesecake mixture by blending cream cheese, sugar, and vanilla extract. After poking the cake, spread the cream cheese mixture over the surface, allowing it to seep into the holes. Refrigerate and proceed with the sweetened condensed milk step.
chocolate Drizzle Delight: Taking Indulgence Up a Notch
If you're a chocolate lover, drizzle your pumpkin poke cake with melted chocolate or a luscious chocolate ganache. The combination of chocolate and pumpkin is simply divine. Add the chocolate drizzle on top of the whipped cream for an extra touch of decadence.
Nutty Crunch: Adding Texture and Flavor
Craving some crunch? Sprinkle crushed nuts, such as pecans or walnuts, on top of your pumpkin poke cake. The addition of nuts not only provides a delightful texture but also complements the flavors of the pumpkin and spices.
Maple Glaze Magic: Enhancing the Essence of Fall
For a delightful maple twist, prepare a simple maple glaze using powdered sugar, maple syrup, and a dash of vanilla extract. Drizzle the glaze over the cake after it has absorbed the sweetened condensed milk. The combination of maple and pumpkin will transport your taste buds straight into a cozy autumn wonderland.
Caramel Infusion: Sweetness with a Twist
Indulge in a caramel-infused pumpkin poke cake by incorporating caramel sauce into the recipe. After poking the cake, pour the caramel sauce over the surface, allowing it to seep into the holes. Refrigerate and proceed with the sweetened condensed milk step. The result is a dessert that oozes with sweet caramel goodness.
---
Frequently Asked Questions (FAQs)
How long does a pumpkin poke cake last?
A pumpkin poke cake can last up to 4-5 days when stored in an airtight container in the refrigerator. However, it's so delicious that it's unlikely to last that long!
Can I make a pumpkin poke cake ahead of time?
Yes, you can! In fact, making a pumpkin poke cake a day in advance allows the flavors to meld together even more. Simply prepare the cake as directed, poke the holes, pour the sweetened condensed milk, and refrigerate. Add the whipped cream and garnish just before serving.
Can I freeze a pumpkin poke cake?
Yes, you can freeze a pumpkin poke cake. Wrap it tightly in plastic wrap or place it in an airtight container before freezing. Thaw it in the refrigerator overnight before serving. However, keep in mind that the texture may slightly change upon thawing.
What are some alternative toppings for a pumpkin poke cake?
In addition to whipped cream, you can get creative with the toppings. Consider sprinkling crushed graham crackers, drizzling chocolate sauce, or adding a dollop of cream cheese frosting. The options are endless!
Can I use a different cake mix flavor instead of yellow cake?
Absolutely! While yellow cake pairs beautifully with pumpkin, you can experiment with other flavors such as spice cake, butter pecan, or even chocolate for a unique twist.
How can I make a vegan or gluten-free version of a pumpkin poke cake?
To make a vegan pumpkin poke cake, use a vegan-friendly cake mix and replace the eggs with a suitable egg substitute, such as applesauce or flaxseed meal mixed with water. Ensure the sweetened condensed milk is vegan-friendly or substitute it with a vegan condensed milk alternative.
For a gluten-free version, use a gluten-free cake mix and ensure all ingredients, including the sweetened condensed milk, are gluten-free. Be mindful of any cross-contamination risks when baking.