What's the first thing that comes to mind when you think of Valentine's Day? Is it $$$? It seems that Valentine's Day is one of those holidays, that if you don't spend A LOT of money on your loved one, that you don't care. Not so! I think anything that you make from the heart speaks volumes compared to $$$.
I am happy to share two of my favorite recipes with you that I make for my dear hubby and kids. They are not only made with love, they're deliciously frugal.  The first recipe is for Glazed Brownie Hearts and the second recipe is for Strawberry Roll-Ups.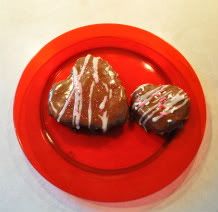 Ingredients:
-1 box (1 lb 2.4 oz) Betty Crocker Original Supreme Premium Brownie Mix (although any brand & variety will do)
-Water, vegetable oil and egg called for on brownie mix box
-1 cup Betty Crocker Rich & Creamy chocolate frosting (from 16 oz container) (any brand will do)
-Multicolored candy sprinkles or colored sugar (optional)
I made a very small batch of white icing. (Consisting of powdered sugar, vanilla extract, milk and butter. I don't have exact measurements for these ingredients, I just eyeball them as I am making it).
Directions: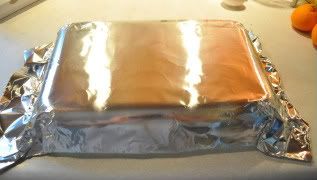 Heat oven to 350°F (325°F for dark or nonstick pan). Line bottom and sides of 13×9 inch pan with foil. A good trick to get the foil to completely fit inside the pan decent, is to turn your 13×9 pan over and form your piece of foil (picture above). Take the foil off, flip your pan back over and put your formed piece of foil inside of it. Grease bottom only of foil with shortening or cooking spray. Make and bake brownie mix as directed on box. Cool completely, about 1 1/2 hours.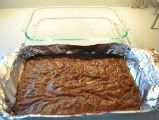 Using foil to lift, remove brownie from pan; remove foil. With a deep heart-shaped cookie cutter, cut heart brownies. Place brownie hearts on a cooling rack or waxed paper.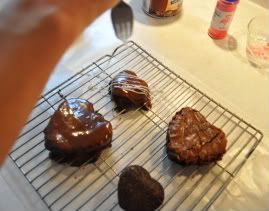 In microwavable bowl, microwave frosting uncovered on High 10 to 20 seconds. Stir; frosting will be thick and spoonable. DO NOT BOIL. Carefully spoon melted frosting over brownies to glaze, allowing excess to drip down sides. Sprinkle with candy sprinkles before frosting sets. With some of my brownie hearts after I had glazed them with the choc. frosting, I then drizzled them with a little bit of white icing that I made.
Next recipe: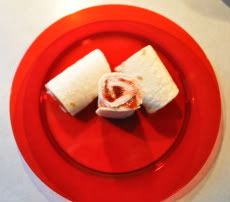 Ingredients:
Strawberry flavored cream cheese (8 oz.)
Strawberry jam
Tortilla shells (soft and I use the small 8″ ones, but you can use any size).
Directions: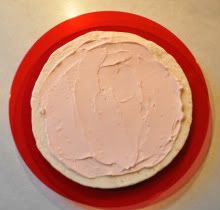 Spread the strawberry cream cheese first on the flour tortilla shell. Then spread the strawberry jam on top of the cream cheese.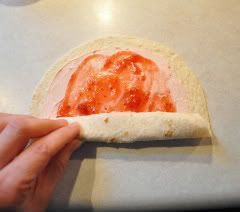 Roll the tortilla into a log and cut into 1 inch thick slices. Serve.
For more great dessert recipes visit our Desserts Forum.