About Mommysavers: Mommysavers was launched over eleven years ago in March 2000 as a basic web site and online discussion forum with the mission of helping moms live well for less. Today, its active forum has over 80,000 registered members.
Quick Stats (Updated December, 2013):
Facebook Fans: 95,000+
Twitter Followers: 6,500+
Pinterest Followers: 49,000+
Registered Forum Members: 80,000+
Monthly Page Views: 1,200,000+
Monthly Unique Visitors: 400,000+
Mommysavers in the Media: Mommysavers creator Kimberly Danger is the author of several personal finance books and has represented national brands in the media for over five years. She has been featured as a money saving expert in the news and on morning shows in Philadelphia, Tampa, Miami, Orlando, Detroit, Boston, Cleveland, San Diego, Sacramento, Baltimore, Miami, Seattle, St. Louis, Atlanta, Chicago, Nashville, Phoenix, Dallas, Hartford, New Haven, Indianapolis and in her home state of Minnesota. She has appeared nationally on ANDERSON with Anderson Cooper, Daytime, Better TV and The Daily Buzz. She has shared segments on baby bargains, organization, savvy shopping strategies, back to school, and saving money during the holidays.
Ms. Danger has worked with Coupons.com as their Family Savings Expert, Uniroyal Tire as spokesperson for their More Mileage for Your Money campaign, and with Kmart as a Playdate Place Parent. In 2010, she was recognized by CNN/Money Magazine as their Best Online Consumer Expert. She has also worked on national campaigns for Tide, Kmart, Sprint Mobile, and Shell. She has experience with RMTs, SMTs, ANRs, Co-op Media Tours, Matte Releases and Web Videos. Her interviews and tips have appeared in other newspapers and national magazines such as:
*Parenting
*Parents
*All You
*Woman's Day
*Woman's World
*Real Simple
*First for Women
*Women's Health and Fitness
*Everyday with Rachael Ray

*Budget Living
*Money

*Redbook
*Quick & Simple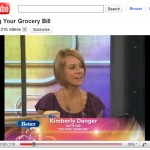 Media Requests: Kimberly has provided hundreds of expert interviews with radio stations, TV stations, newspapers and magazines on the subject of saving time and money. She is happy to provide interviews as a frugal expert on a variety of topics. Mommysavers members have been featured on national TV programs such as Wife Swap and CBS's The Early Show.
Advertising: Mommysavers offers several options for advertising. Above the fold banner ads can be secured by contacting [email protected] Other options are as follows:
Advertise with us and benefit from our traffic.
Advertising on MommySavers.com is a cost-effective way to place your product or service in front of a valuable niche audience.  With both prominent banners, sidebar links, product reviews and blog posts, our staff is fully capable of handling your advertising needs and requests. Unlike many other blogging formats, we do not make advertising a hassle or confusing: our rates are straightforward and affordable.
Available Advertising Opportunities (please email [email protected] to verify current availability):
We do not require any long-term contracts. All advertising is billable monthly with relevant posts starting on the first day of any given month and closing on the last. Advertising spaces are automatically renewed each month, unless a 30-day written notice to withdraw is submitted. Advertising banner ads must be specific and relevant to the size required for posting and should be provided in either a .jpg or .gif format. Flash or animated graphics are allowed at an additional rate of (+$20) per month, per ad. Ads cannot exceed 50k in file size, unless otherwise approved prior to submission. All advertising is subject to blog ownership's review and approval for acceptable content. Blog owner reserves the right to refuse any advertising content it deems irrelevant or inappropriate for reasons related to Search Engine Optimization.
Giveaways/Reviews: Mommysavers would be happy to feature your product or brand in one of our blogs as a giveaway (view a sample post here). Giveaway posts are a more personal way to interact with and engage our readers than traditional advertising. The giveaway promo will be posted in our blog, on Facebook, and on Twitter. We ask that:
Your promotion offers at least $100 in merchandise to our readers (can be split into more than one prize) and at least $50 in merchandise to the blogger.
The prize supplier sends prizing directly to winner no later than a week after the giveaway has ended.
Although the sponsor is welcome to suggest main speaking topics, all blog reviews are our own and will remain unbiased and unedited. To set up a giveaway, contact [email protected]
Contacts:
For press copies of Kimberly's books:
[email protected]
For website 125×125 advertising:
[email protected]
Spokesperson and media inquiries:
[email protected]