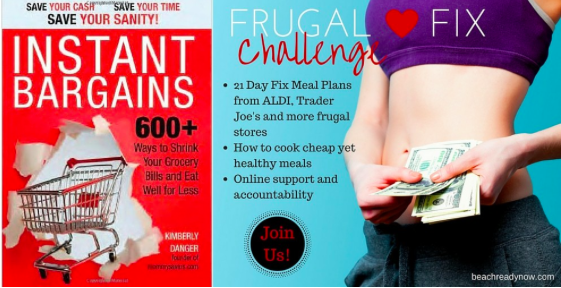 I am BEYOND excited to announce the next 21 Day Fix Challenge Group I'm co-hosting with several other Beach Body coaches. It's called the "Frugal Fix" and it starts January 25th!
Why am I so excited? Because it's all about living a healthy lifestyle while being frugal, something I'm so passionate about!  You can live healthy and eat healthy without breaking the bank.  Sure it involves a some adjusting and shifting and even getting out of your comfort zone.  It's still completely doable! I know because I do it!
Here are the highlights of this Challenge:
Daily accountability and accountability partners
Frugal menu planning resources from stores like ALDI
Healthy, frugal recipes
Harness dozens of ways to save online
Use technology to make menu planning and shopping easier
Shop and cook efficiently by spotting inexpensive ingredients
Create healthy homemade versions of your favorite grocery items
Essentially, within 30 days you will learn to make healthy meals for your family that fits your budget and lifestyle.  You will also learn ways to cut back on monthly expenses that are painless.
Requirements: Any challenger can join who has a 21 Day Fix or 21 Day Fix Extreme Challenge Pack with Shakeology listing me as your FREE Coach.  My ID number is 778984.
For New Customers:  Challenge packs are on sale this month so don't miss out! Purchase yours HERE.
PLUS, as an added bonus the first FIVE people to join the Frugal Fix challenge group AND purchase a challenge pack with Shakeology, will be gifted a FREE paperback copy of Instant Bargains.
Instant Bargains is a great book full of money saving tips written by our own Kim Danger! I personally have this book and can tell you how well organized and thought out it is.  It's full of so many tips and strategies for saving money on groceries and other household items for your family.  It's the type of book you dog ear, highlight, and return to later.
First FIVE get it FREE so sign up NOW!

Need help or have any other questions, please contact me at [email protected] or message me on Facebook.