Melted snowman Cookie Recipe
Are you looking for a fun winter project to do with your kids?  This melted snowman cookie recipe is pretty simple, and kids will love painting faces on your snowmen.  Plus, with the cookie mix on sale at target this week paired with the coupon here it's pretty frugal, too.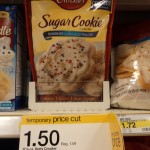 Start by making the cookies according to package instructions.  There will be two recipe options:  the drop cookie or the cutout cookie recipe.  Choose the drop cookie recipe.
A pouch of cookie mix says it makes three dozen cookies, but since we made our melting snowman cookies a bit larger than regular cookies we got 14 out of the batch.  That seemed to work well.
When placing the cookie dough on the cookie sheets, don't worry about making them round.  In fact, these cookies will look even better if they're slightly mis-shaped.  After all, melting snowmen aren't perfectly round!
Bake the cookies according to package instructions.
When your cookies have cooled, drizzle white frosting on the top.  I heated the frosting slightly so it would run a little bit and look more like a "puddle" on top of the cookie.  That really helps create the "melted snowman" effect.
Next, microwave your marshmallows on a greased plate for about 30 seconds.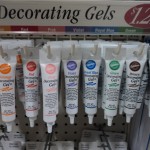 With greased/buttered fingers, remove the marshmallows from the plate and place on the cookies to serve as the snowman's head.
Next comes the fun part:  decorating them!  We used these Wilton cake gel pens I found at Michaels for $1.29 each.  However, you'd save quite a bit if you colored your own frosting and used your own cake decorating bags and tips to decorate your snowmen.
I can't take credit for this idea.  My Facebook friend Jennifer posted this link, which showed me how to do this cute melted snowman cookie project.