We often focus on the teachers, and rightly so – but school lunch cafeteria employees are important part of your child's school experience as well.  School Lunch Superhero Day is taking place on Friday, May 3.  Its purpose is to celebrate and thank all the hard-working school cafeteria employees in schools across the country and is the perfect opportunity to show your appreciation.  The School Lunch Superhero Day website explains the initiative.
Free Printables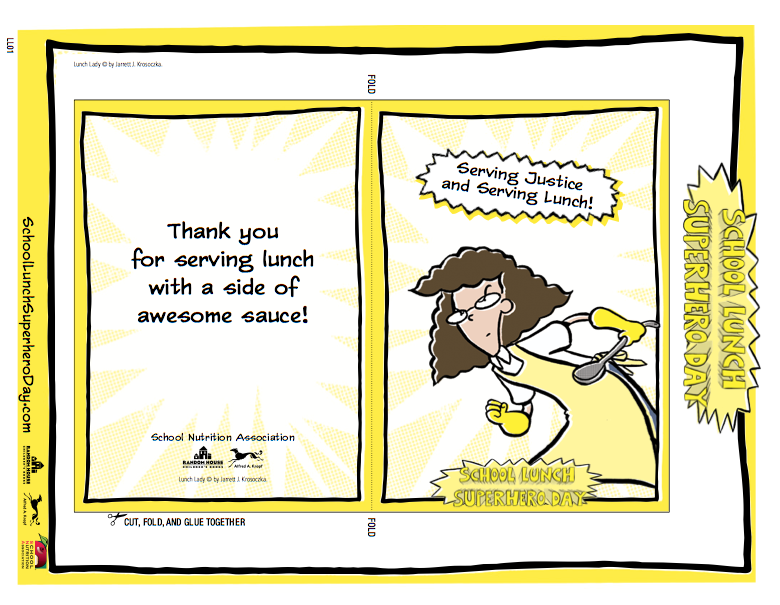 Download the free printable School Lunch Superhero Activity Guide for thank you cards (similar to valentines day cards) or create a comic for their favorite cafeteria employee.
Share Stories
Want to read more about the great things going on with school lunches this year?  Make sure you "like" the Tray Talk Facebook Page.  You'll find success stories submitted by school nutrition professionals, and real-life examples of how programs for locally-sourced foods and nutrition education initiatives have been implemented.  Cool stuff!
You'll also find kid-approved recipes for school breakfasts and lunches that meet nutrition standards and provide healthy, balanced meals in real school cafeterias across the country. Recipes are provided in family portion sizes.
Read More About Changes in School Lunches
I had the opportunity to visit the School Nutrition Association's Annual National Conference last summer in Denver.  Since my own kids have been eating school lunch for years, it was reassuring to see all the work and planning that goes into providing our kids with the best lunches they can – and ones they'll want to eat.  Read more about it HERE
Disclosure:  This post was sponsored by the School Nutritional Association.  All opinions are my own.