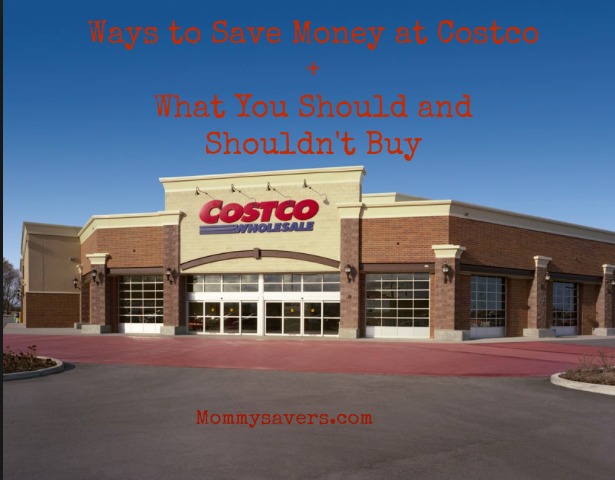 I love Costco!  I don't have a membership but my mom does and we go at least once or twice a month.  I really can't go anymore than that because it's too enticing and I want to buy everything! Here are some great tips for getting the most bang for your buck at Costco.
Know what the prices on the signs mean.  *I have read some conflicting reports on this info. 
$.99 ending means it's regular price
$.49 or $.79 means it's a manager markdown
$.88 or $.00 means open-box or floor model markdown
Asterisk means it's a discontinued product and won't be back in the store anymore
Know the return policy and save your receipt.  It's actually pretty good.  If you purchase something and the price drops within 30 days, you can bring in your receipt and get the difference returned to you.  Almost everything else can be returned with a receipt with 2 years (I'm thinking this probably does not apply to food).
Use the pharmacy.  Especially if you don't have insurance or it doesn't cover certain medications.  Costco prescription prices are one of the best around.
Look for instant rebates:  They are everywhere!  The price signs that contain a literal subtraction basically are sales.  You don't need a bonus card or coupon to get the deal.  It's automatic at checkout.  From what I have seen, you can wind up saving up to 30%.  It's a good time to possibly try a food item you wouldn't have normally bought.
Membership coupons. If you are a member you should routinely get a coupon booklet in the mail.  Check those coupons out and use them.  They are always for a variety of items.
Make a personal price book.  Base it on items you regularly purchase at Costco. That way you can budget them in and if you find a cheaper price somewhere else, you can check it off your monthly list.
Know what products are a good deal.  Compared to grocery and department stores, buying the following items in bulk are usually a good deal at Costco:
Dairy Products (cheese, yogurt, milk, eggs, etc)
Rotisserie Chicken
Frozen meat, vegetables, and fruit
Produce (sometimes, just check local prices)
Snack foods (found near bakery. Large bags of chips and other snacks at low prices)
Batteries (large packages for half of what you would pay anywhere else)
Medications.  Pain relievers and more bought in bulk at great prices
Diapers and Wipes (Kirkland is made by Huggies people!)
Some toys (compare to other online prices while you are in the store)
Books (bestsellers and kid books are usually rock-bottom prices)
flowers (so pretty and amazing prices.  You would pay 30-50% more anywhere else)
Gift cards (local restaurant and movie gift cards discounted usually by 20% but are sometimes on instant rebate)
Know what NOT to buy.  Use your price book to compare prices at other local stores and regular deals you can find.  Most of these items can be bought for ALOT cheaper at other stores with sales and coupons, especially seasonal.
Fresh Meat (much lower prices can be found at grocery stores if you stock up during sales)
Pre-packaged Meals (Usually over-priced and full of additives and chemicals)
Cereal (I NEVER pay over $1.50 for a regular sized box)
Condiments
Clean Products (cheaper at stores or make your own HERE)
Laundry Detergent (cheaper during BOGO deals at stores or make your own HERE.)
Never miss a deal, tip, or recipe when you subscribe to our newsletter to the right of your screen —->