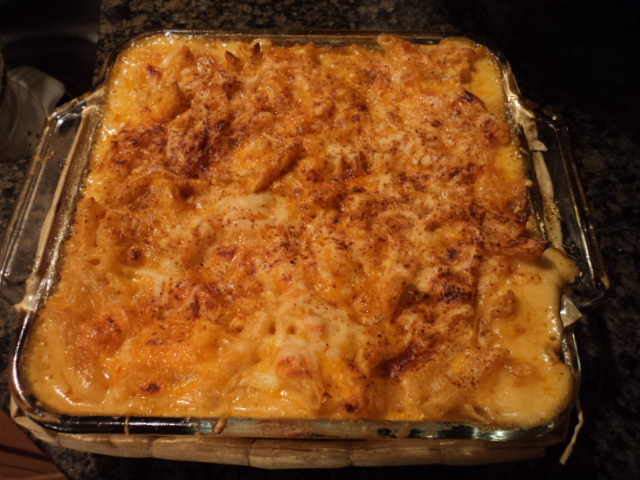 Beecher's World's Best Mac and Cheese
My eleven-year-old daughter recently watched the latest episode of Oprah – you know, the one where she lists her favorite things.   Never mind the cool electronics and gadgets that Oprah gave away, my daughter wanted to know where she could get the Mac and Cheese.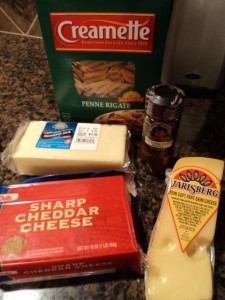 I found the company's name (Beecher's Cheese) on Oprah.com, and then located their website.  It turns out that you can buy a 9×13 pan of their World's Best Mac and Cheese for the very un-frugal price of $70.  THAT wasn't happenin' in MY household. In typical money-saving fashion, I embarked plan B:  To track down the recipe instead. Making copycat recipes at home is always the frugal solution to eating well.
I found several recipes online (credited below), which were all very similar.  Based on studying all of them, I came up with my own frugal copycat recipe version of the Oprah's (Beecher's) Mac and Cheese here.
Beecher's "World's Best" Mac and Cheese Recipe

16 oz. penne pasta (a 1 lb. box)
Beecher's Cheese Sauce (recipe below)
¼ C. grated sharp Cheddar cheese
¼ C. grated Jarlsberg cheese (the original recipe calls for Gruyere, but at $18.99/lb. vs. $8.99/lb Jarlsberg is an acceptable substitute
1/4 teaspoon chipotle chile powder
Preheat oven to 350 degrees.  Grease an 8×8 baking dish.  Cook the pasta 2 minutes less than package directions (it will finish cooking in the oven). Rinse pasta in cold water and set aside.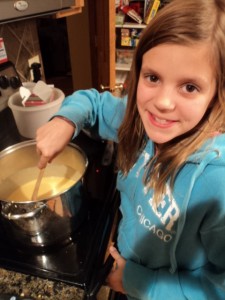 Combine cooked pasta and Beecher's Cheese Sauce in a medium bowl and mix until the cheese sauce has been completely incorporated.  Pour the pasta/cheese mixture into the prepared baking dish.  Sprinkle the top with the cheeses and then the chile powder. Bake, uncovered, for 20 minutes.  Let stand for 5 minutes before serving.
Beecher's Cheese Sauce
1/4 cup ( 1/2 stick) unsalted butter
1/3 cup all-purpose flour or Wondra
3 cups milk
3 ½ C. sharp Cheddar cheese
½ C. grated Monterrey Jack cheese
1/2 teaspoon kosher salt
1/4 teaspoon chipotle chile powder  (add up to 1/2 tsp. if you like more heat)
1/8 teaspoon garlic powder
Melt the butter in a heavy-bottom saucepan over medium heat and whisk in the flour. Continue whisking and cooking for 2 minutes. Slowly add the milk, whisking constantly. Cook until the sauce thickens, about 10 minutes, stirring frequently. Remove from the heat. Add the cheese, salt, chile powder and garlic powder. Stir until the cheese is melted and all ingredients are incorporated, about 3 minutes. Use immediately, or refrigerate for up to three days.
We loved this recipe.  My son thought it was a little spicy, but he still cleaned his plate.  We thought for our next go-round we'd add bacon to the recipe to enhance the smoky flavor.
Thanks Three Imaginary Girls,  Seattlepi, Tastebook, and Martha Stewart.