If you have a daughter between the ages of 6-12 then you are probably familiar with the Disney's Descendants characters.  My 8 year old LOVES Evie.  The costumes are mostly sold out and if they aren't, it could cost up to $100 to put the entire look together.  Yeah right!  It's just not happening.  However in doing a DIY search I realized that it's possible to put something together using clothing items and shoes we already own, thrift store finds, and Michael's craft store.  I spent less than $20.  Yes I did already had some stuff to work with but I think most girls these ages already have this kind of stuff in their wardrobe.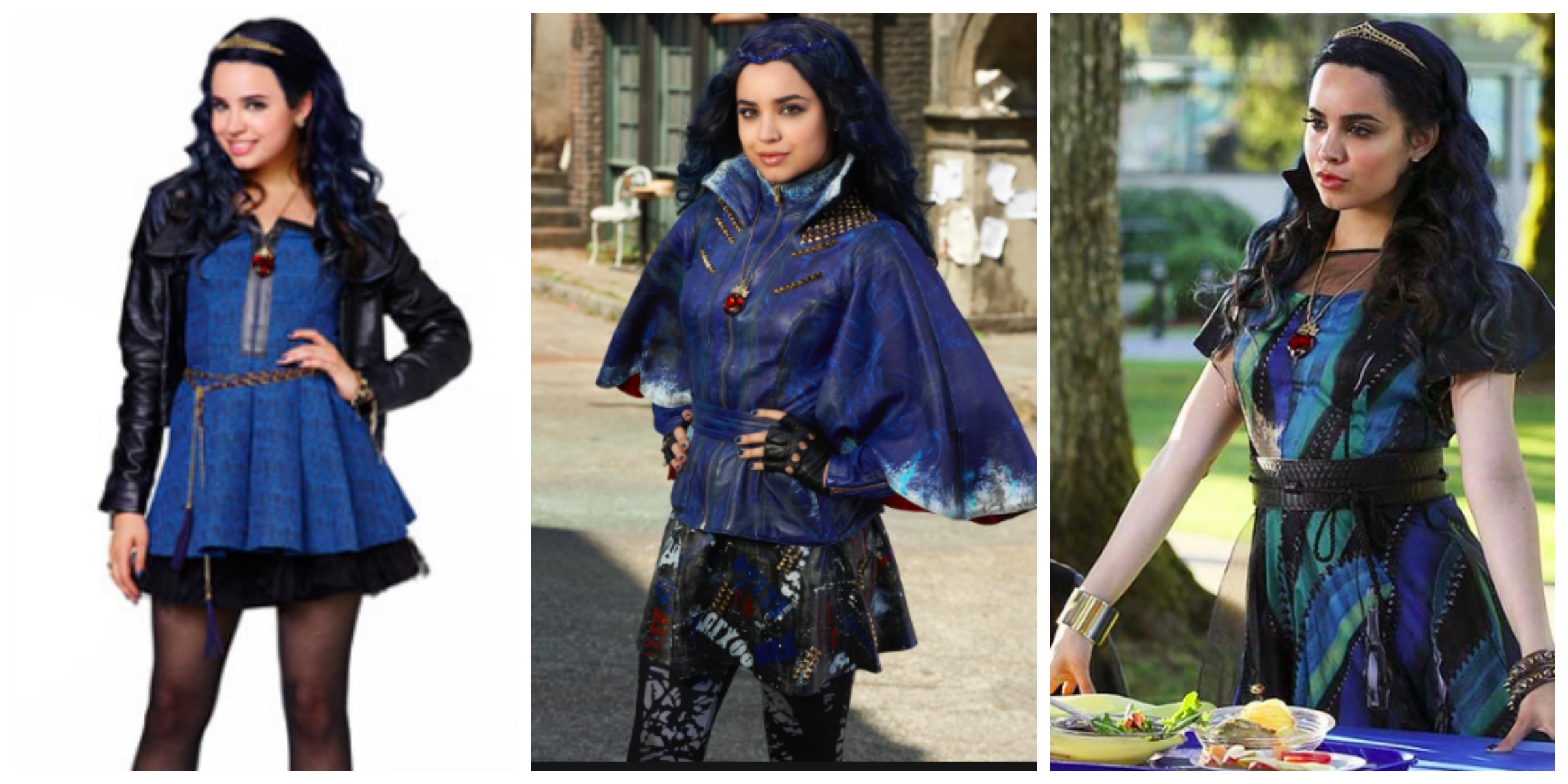 My creation is inspired by a combination of all three looks. Here is what I came up with:
First I started with the basics:
blue graphic tee (any shirt with do because it won't be seen except at the top and maybe the bottom.)
black zipper jacket (leather or pleather is best.  If you have a blue jacket it's even better!)
black skirt (the more flare the better.  I used a pleated skirt that looks like it's from a school uniform). 
I bought the skirt from a consignment store for $4.50.  If I had been able to find one it would have been $2.50 at Goodwill.  I had the jacket and the shirt.  Another option is a plain blue dress like in the picture above on the left.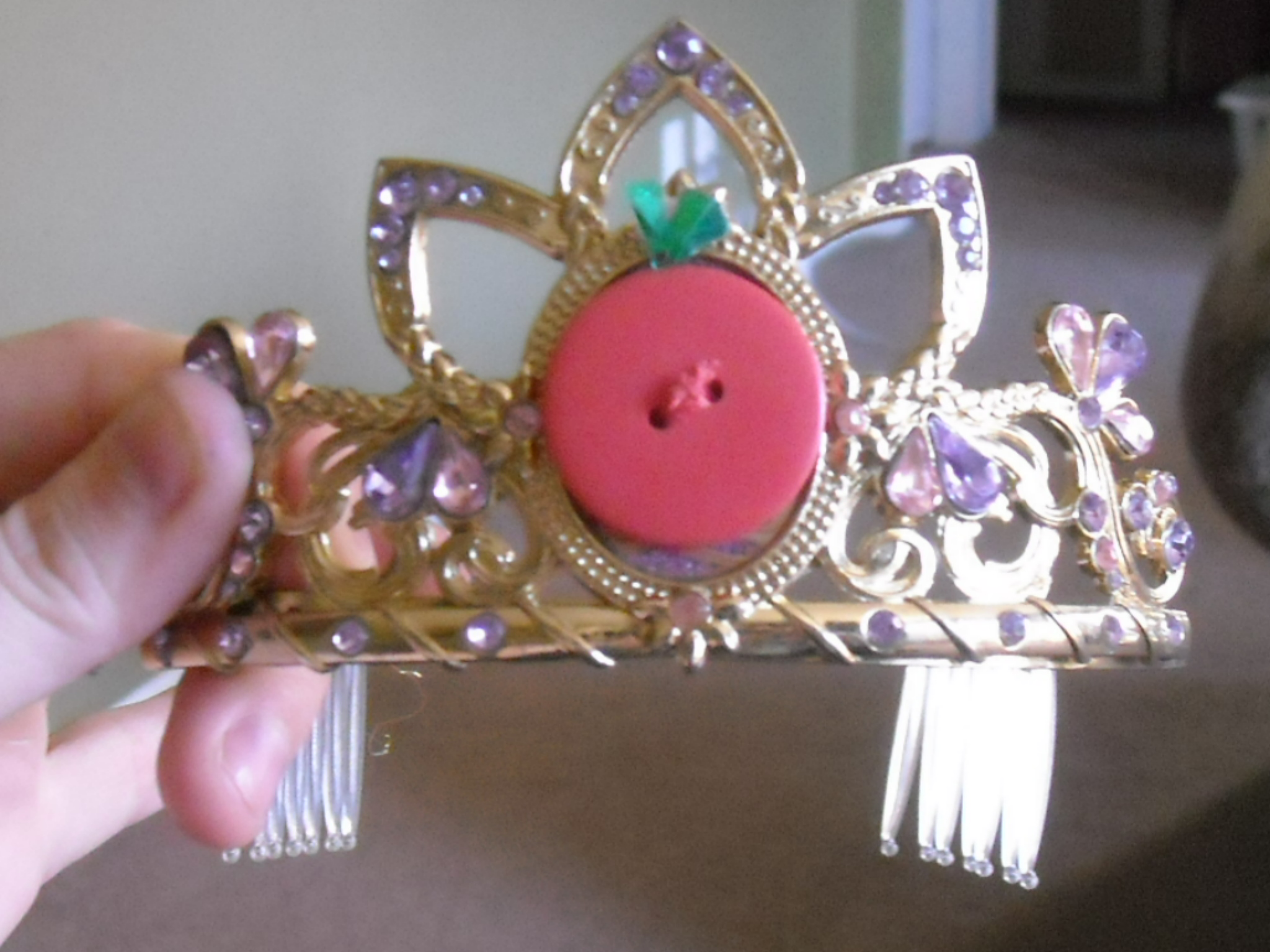 Starting at the top of the head, I found a blue wig that was 33% off a CVS.  Sometimes waiting until the last minute does pay off because I found it for $6.  I know it's bright in the picture but honestly all of the costumes show Evie with blue wigs.  Plus the real wig I bought isn't THAT bright!  It looks good.  For the tiara, I took my younger daughter's Rapunzel Tiara and put a large red button in the center using "glue dots" that are NOT permanent.  I also cut up a green sequin and glued that on.  As you can see it looks like an apple which is appropriate because Evie's mother is the evil queen from Snow White.  I happened to have everything so the tiara cost me $0 out of pocket.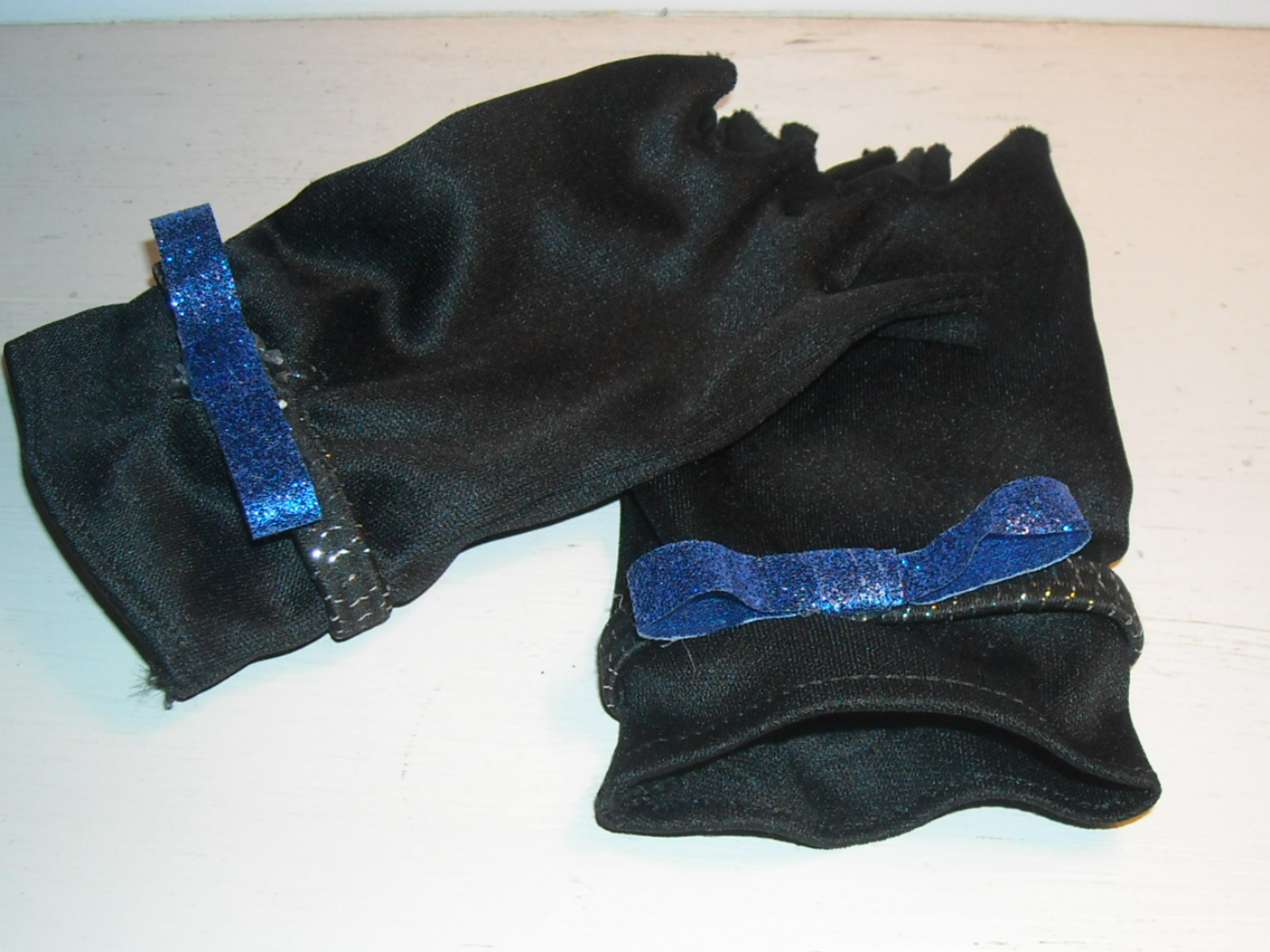 The black gloves were $2 at Goodwill new in the package. I cut the tips of the fingers off of the gloves because Evie wears fingerless gloves. Instead of worrying about bracelets, I cut up a thing black headband and glued it around the glove with my glue gun (any glue will do). Then I topped it with bows I made from a $1 spool of ribbon from Michael's.  They look really cute on and she loves them!
For the jacket, I cut out a crown from a golden glittery piece of scrapbook paper and stuck it onto the jacket.  You can also stick a large crown on the back but I didn't do that because the wig is so long it would be covered anyways.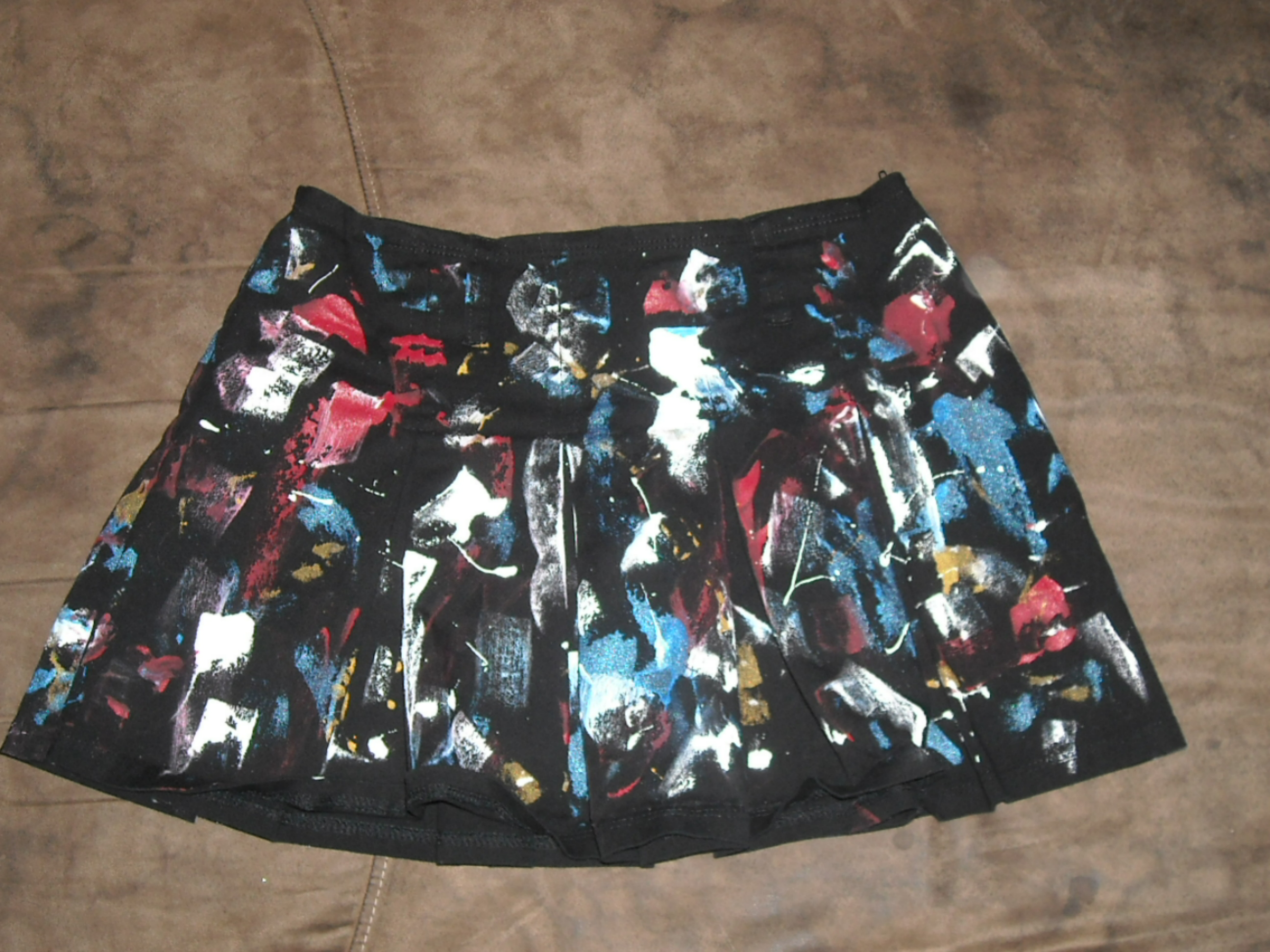 When creating the skirt, I wanted to mimic the multi-colored graffiti look.  I actually used acrylic paint.  The cheap $.89 a bottle acrylics that I happen to already have from previous projects with the kiddos.  If I was artistic enough I would have used stencils to create the lettering.  However because It's not, I just simply splattered paint all over the skirt.  I used white, blue, dark red with a little bit of gold. It turned out pretty awesome!  Just make sure you give it time to dry and don't forget to do the back!
Evie's tights are black and grey in one outfit.  In another outfit they are black and lacy.  I found grey and black striped tights for adults at Goodwill for $2 (new in package).  When she put them on I bunched them up because I didn't want the stripes to look too neat.  The outfit is supposed to look a little chaotic.   For her shoes I used her black dress shoes.  Black boots or booties would be even better.  Shoes with a heel would be best but not practical for Trick or Treating.
The only thing I couldn't find at a price I was willing to pay was Evie's signature ruby heart pendant topped with a crown.  My goal was to spend less than $20 and I was able to do it.  It did take some time but it was kind of fun to do.  Ann didn't know I was working on this costume at all.  When she came home from school the look on her face was priceless!  If she is happy, I'm happy!
Here are more Halloween costume resources:
Never miss a tip, recipe, or deal when you subscribe to our newsletter to the right of the screen —>