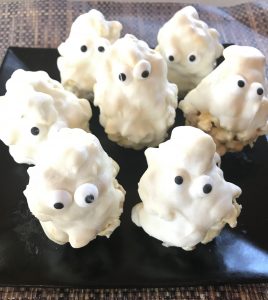 Yes, it's yet another Halloween Treat using my FAVORITE accessory – the Wilton Candy Eyes.  This time, it's popcorn ball ghosts.  I'll admit, it's hard not to eat several of these during the process.  Not only is the marshmallow-coated popcorn a bit of salty-sweet heaven, it literally sticks to your fingers and BEGS to be licked off.   So, I'm not sure exactly what this batch actually makes.   I got about 16, but if you have more self-control than I do, you can make more.
What You'll Need:
1 bag mini-marshmallows
1/2 stick butter
1 tsp. vanilla
16 cups popped popcorn
White candy coating
How to Make Your Popcorn Ball Ghosts: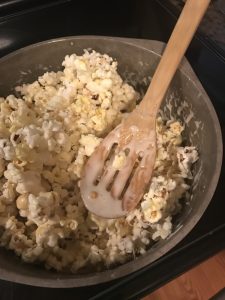 On the stovetop over medium heat, melt the butter.  Next, add the marshmallows and stir until melted.  Add the vanilla.  If you've made Rice Krispies Treats before, you know the drill.  Remove from heat and fold in the popcorn, stirring until all the pieces are coated.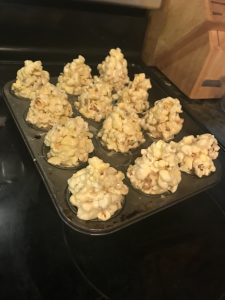 Allow the popcorn/marshmallow mixture to cool enough so that it's not too hot, but still warm enough to be easily formed.  Next, make sure your hands are greased up.  I rubbed a little butter on mine.  Form your ghosts.  I used these mini muffin tins as a base, which seemed to work really well.  Allow them to cool before the candy coating step (a couple hours or longer is ideal).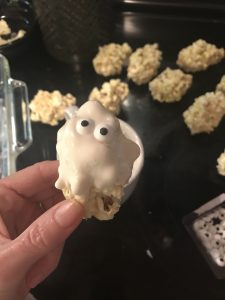 Melt the candy coating.  I melted mine in a tall coffee mug which seemed to work well.  Microwave in 20-30 second increments, stirring in between.  Dip your ghosts in the white candy coating.  This was a messy process!  I recommend having a damp washcloth nearby to wipe the candy coating off your fingers before you place the eyes on the ghost.
Thanks to My First Year for the inspiration!