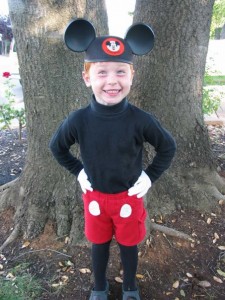 Homemade Costume Idea:  mickey mouse
Sometimes the cutest costume ideas are the ones that cost the least.  This homemade Mickey Mouse costume uses items you may already have at home:  A black turtleneck, black tights, red shorts, a Mickey Mouse hat and white gloves.  Robin Lawson, who shared this with us via Facebook, said the only thing she had to buy were the gloves — and she found them at the dollar store!  Thanks, Robin.
View all our other great homemade halloween costumes!