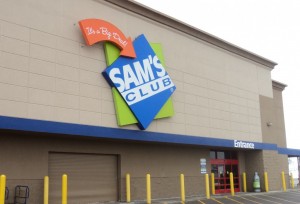 When it comes to saving money, knowing how to navigate Warehouse stores like Sam's Club can help moms save a LOT of money.  However, there are a few things you'll want to be aware of to truly maximize your savings:
SAM'S CLUB SAVINGS:
When you buy in bulk, your cost-per-item goes down.  For new moms, this comes in especially handy when purchasing diapers, wipes, formula food, toys and baby gear.  It's not just store brands either, you'll find the brands you love there as well.
Sam's Club isn't just a bricks-and-mortar store, you can also shop for Baby Items Online.  PLUS members get special perks like FREE Shipping (the PLUS Membership is $100, but you also get $10 for every $500 spent on qualifying purchases, up to $500 annually as well as certain generic prescriptions for just $10 or less).
New moms are super-busy, and time to cook is at a premium.   The quality of food at Sam's Club includes USDA choice meats, plus some amazing freezer meals that can be popped into the oven for quick, easy, affordable meals.  Plus, their bakery items are fantastic!
Shopping with babies and children isn't easy, but Sam's allows you to get in and out of the store quickly, skip the checkout lines with Scan & Go, order ahead with Club Pickup or shop on the go with the Sam's Club app.
Exclusive Instant Savings Offers: Enjoy extra offers on top of already low members-only prices.
SPECIAL SAM'S CLUB DEALS:
If you haven't joined Sam's Club yet, you can sign up today for $45 and get a FREE $20 Sam's Club Gift Card! (Guaranteed Value: Love your membership or your current yearly fee will be refunded in full).
You can also enter the Savings.com's Sam's Club membership gift card giveaway

. Twenty Five (25) winners will receive a $100 Sam's Plus Gift of Membership Gift Card. The winners will be chosen through a lottery drawing and notified on Monday (11/12) via the email address they used to enter.

Or, join the Twitter Party for MORE prizes!  Details here: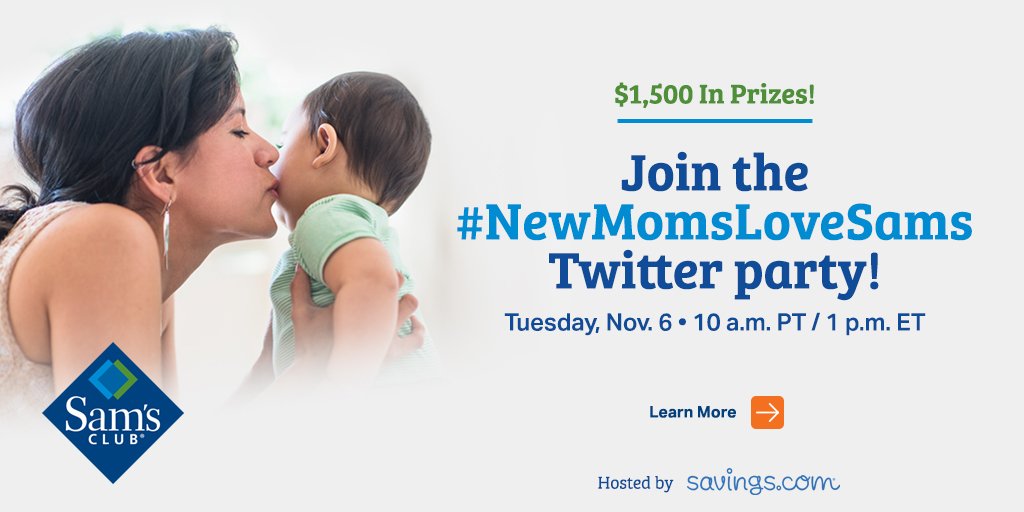 Join the Sam's Club Twitter Party!
Join us on Tuesday, November 6th at 10PM PT/1PM ET for our #NewMomsLoveSams Twitter party! We'll be talking about all the ways that a Sam's Club membership is beneficial for new moms! There'll be $1500 in gift card prizes up for grabs, so be sure to RSVP to be eligible to win!
Hosts: @savings
Hashtag: #NewMomsLoveSams
Prizes: (15) $100 Sam's Plus Gift of Membership gift cards