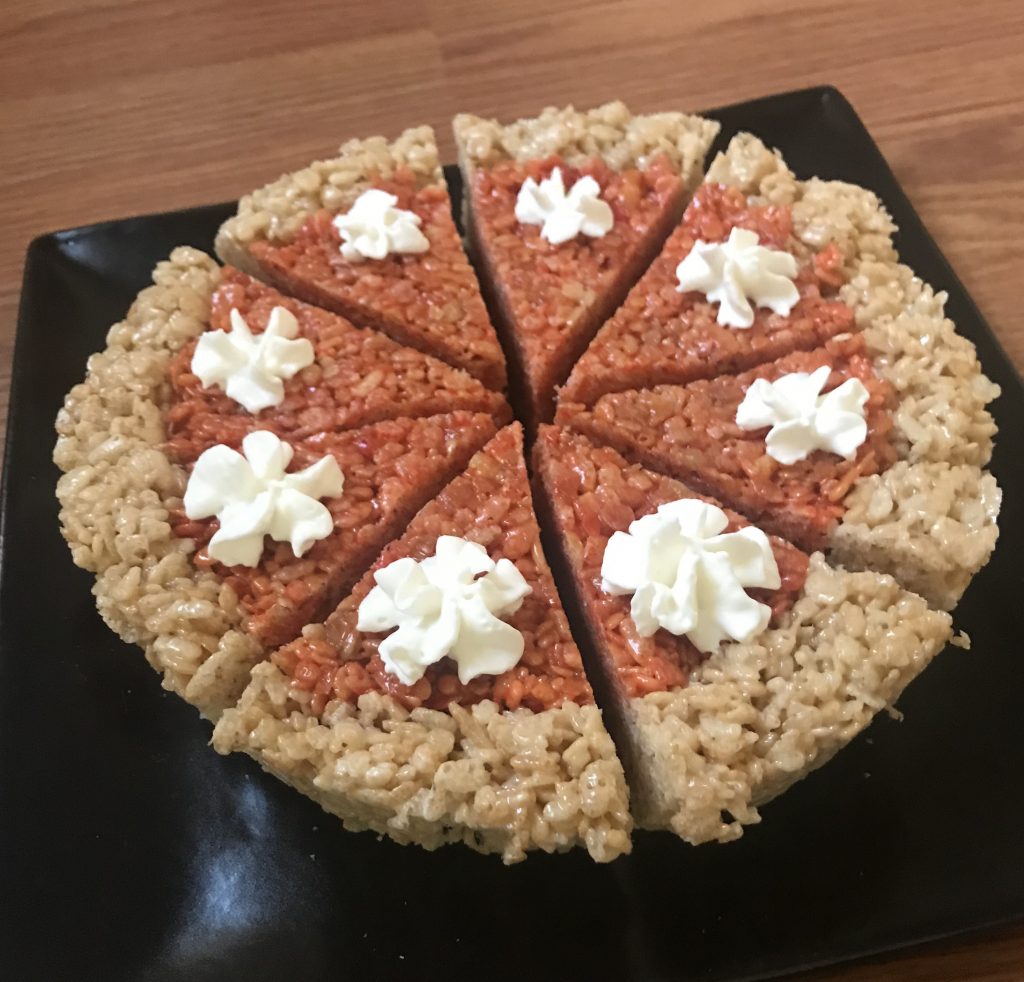 If your kids don't pumpkin pie, here's another fun variation they're sure to love!  It uses Rice Krispies and marshmallows to form an adorable faux-pumpkin pie.  This looks so cute on any Thanksgiving table, but you can serve it anytime during the fall.  Red and yellow food coloring creates the illusion of the pie filling, and little squirts of whipped cream add the finishing touch.
Rice Krispies Pumpkin Pie Dessert
You'll need:
6 C. Rice Krispies cereal
1 bag miniature marshmallows
3 Tbsp. butter
1 tsp. vanilla
Red + yellow food coloring to make orange
Whipped cream (optional)
Instructions:
On the stovetop over medium heat, melt the 3 Tbsp. butter.
Add marshmallows, stirring until just melted.
Remove from heat, add the vanilla.
Pour in the Rice Krispies, stirring to coat them evenly with the melted marshmallow mixture.
When the Rice Krispies have cooled enough to handle, form the "crust" of your pie.  I used an 8″ cake pan for this.  I gently pressed about 1 1/2″ ring around the sides.  To avoid having the Rice Krispies mixture from sticking to your fingers, dampen them with water.
With the remaining Rice Krispies mixture, add a few drops of red and yellow food coloring to create an orange color.  Be sure to do this before the cereal mixture has started to harden.
Press the orange "pie filling" into the middle ring of the cake pan.  Press down.  Cover, and let set.
When the Rice Krispies treats have cooled, remove them from the cake pan and cut into eight wedges.
If you have an aerosol can of whipped topping, squirt a little bit on each piece for added flair.
Enjoy!