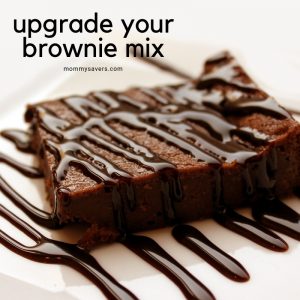 I confess that I have a real weakness for homemade baked goods.  The flavors of the real cocoa and vanilla are something you just can't get these days, even at grocery store bakeries.  However, my main problem is that I am really not a great baker. I try, but it doesn't always turn out.  If you feel my pain, the problem is now solved.  You can very easily upgrade your brownie mix to something contest-worthy!
First, start with a DARK CHOCOLATE brownie mix.  It DOESN'T have to be Ghirardelli Dark Chocolate Brownie Mix, but that's what I use.  I just happened to find a great deal and that's what was in my pantry.  Generally speaking, I am a milk chocolate fan when it comes to candy.  However in the baking world, "dark chocolate" means really rich cocoa flavor so I recommend going with that.
how to Make Regular brownies Taste Like Bakery Brownies:
Then you just follow the regular recipe on the back on the box, using these variations:
Substitute water for milk
Add a teaspoon of vanilla extract
Add a Tablespoon of powdered sugar
If you DO NOT have dark chocolate brownie mix, add a teaspoon of cocoa powder.
These brownies will come out rich and chocolatey!  No one will ever know it all started with a box of mix!  Plus, try some of these mix-in ideas before you bake:
Any baking chips:  chocolate chips, chocolate chunks, peanut butter chips, butterscotch chips, Andes mint chips (a personal favorite), white chocolate chips
Add cut of chunks of your favorite candy bars:  PB cups, snickers, or Peppermint Patties.  Pretty much anything goes!
Make S'mores brownies by mixing in some crushed graham crackers then swirling in some marshmallow cream after pouring the brownies into the pan.
Add some peanut butter.  Just add 5 or 6 spoonfuls to your pan of brownies and use a fork to swirl them around.  (Make sure you use the plain peanut butter and none or the fancy "honey" stuff or it gets too sweet.)
Use the same method and add some raspberry jam (these are amazing!)
You can also do the same thing with ice cream toppings like caramel.  Then add crushed pecans to make Turtle brownies!  Yum!
If you are adventurous enough to make brownies from scratch, then you must check out this recipe for Grandma's Yummy Chocolate Brownies.