For me, joining Beachbody was not about a life changing moment where I decided I wanted to change my life.  I had and still battle serious bouts of depression and anxiety.  I get overwhelmed by life and get in these "funks" where I'm just getting by and don't really enjoy much or have a passion or anything.  It's a sad battle that I have to fight.  I had planned to eventually lose weight but had no motivation to try.
That's where Kim comes in.  You can see her pretty face all over Mommysavers because it's her site.  I started following the Mommysavers forums about 8 years ago, then eventually started moderating.  About 5 years ago, Kim hired me to be a frugal living blogger for Mommysavers.  I love it!  I love finding ways to save money for my family and help others do the same.  I love the hunt of a good deal or frugal tip.  I also love finding and creating yummy recipes.  This is hard work but I do love this job!
Hiring writers for Mommysavers has allowed Kim to focus on her Beachboy business and create Beach Ready Now.  This past year she has had amazing results and helped a lot of people achieve their goals, has great advice and some fun challenge groups.  After some prodding on her part, I finally decided to join her in the program.  Did I look into all other programs first to decide the best one?  Nope.  What I really happy and motivated to get started?  Yes and no. I knew it would work but this dang depression is like a weight on my shoulders that I have to fight to be myself.  Frankly it's annoying.  However I made a commitment to Kim that I would give this a good shot so I have.
Now that I have started it, I like it!  I did the Back to Basics Challenge and I enjoyed the daily check-ins and support from the other group members.  It's a really positive place to get judgement-free support and advice.  You really can be yourself.  The challenge groups have varying themes but all center around clean eating, fitness, and personal development.  Those who sign up meet on a private Facebook group page. The challenges are usually 30 days long.  There is one week where you prepare for the 21 Da Fix with tips of how create yours fitness plan. It's also a time to get to know the other people you will be with. Then you do the 21 Day Fix.  It's a 3 week period of time where you focus on portion-controlled clean eating and regular workouts as well as "me time" every day.  The last 2 days are reflective times where you look at your results and decide that is next.  It really helps to break down your goals to 3 week periods.  It's totally doable!
Most challenges include Shakeology which is a high nutrient dense protein shake.  Compared to other shakes and protein powders, the price seems a little high at first.  The more I read into it, I realized that it takes the place of so many other healthy foods and supplements that in the long run it's worth it.  Plus you don't have the hassle of taking all of these different vitamins every day.  It's pretty simple. Simple is good.
Beachbody is very customizable and you get the motivation without the judgement and pressure.  The atmosphere is great. The "queen of Beachbody" Autumn is a real person and runs her workout videos as such.  I'm in a program that pushes me yet makes me feel secure in who I am.  Age, size, and goals don't seem to matter.  It's all about feeling better about yourself and not trying to fit into a mold.  That is probably the biggest reason why I'm doing Beachbody and not another program.
The first couple weeks were hard because I had so many other things going on in my family and personal life.  Plus, changing your lifestyle and eating habits isn't easy.  It takes work.  However, once things settled down, I finally felt that life-changing "epiphany" in my head.  Now I'm all in and I look forward to learning more and helping other achieve their fitness goals (even ones they didn't even know they had).  Everyone deserves to feel good about who they are.
BTW…check out my Before and After photos!  30 days people…that's all it took! (can you tell my 8 year old what my photographer both times?!)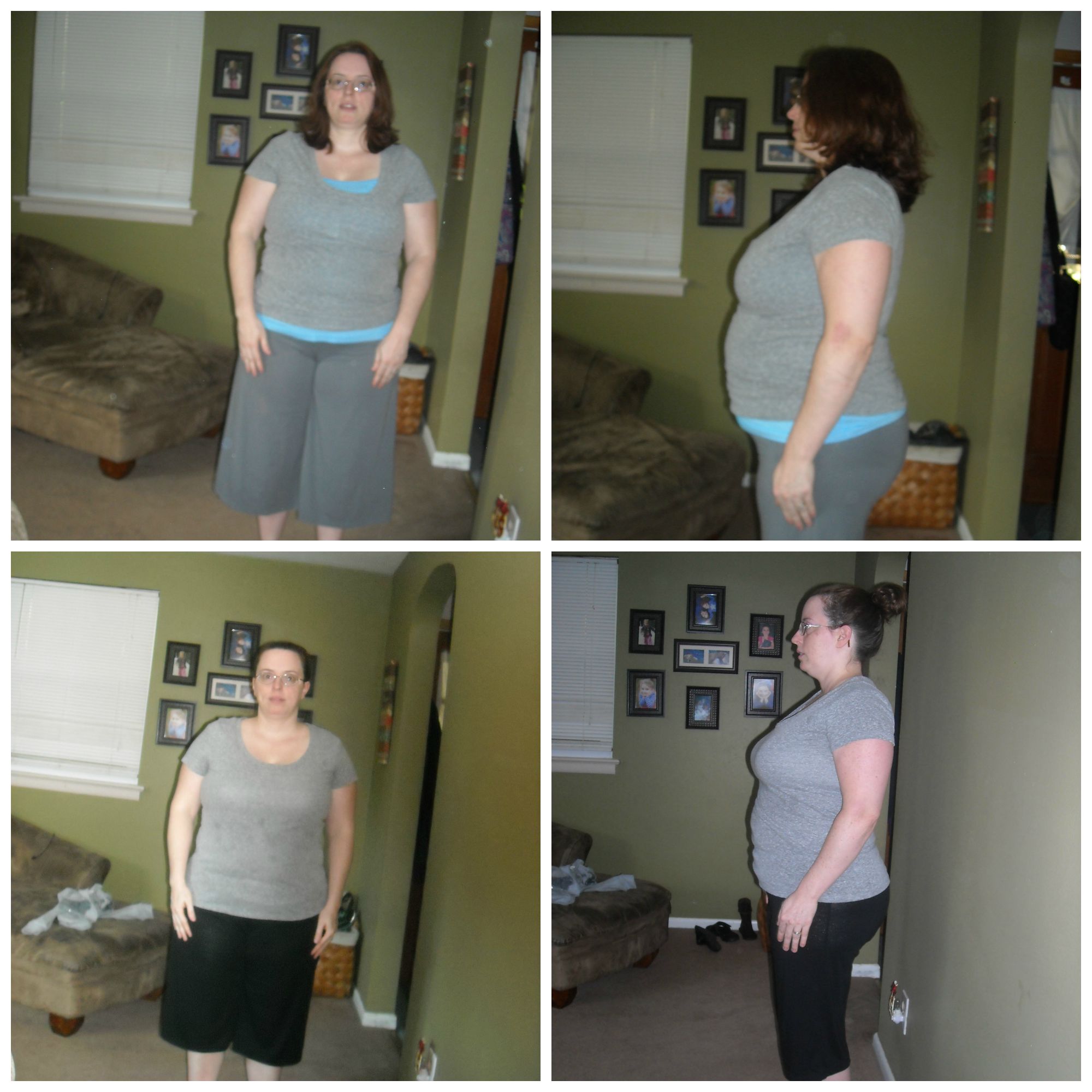 Ready all about my first round of the 21 Day Fix Challenge HERE.
Join my Facebook Frugal Fitness Group HERE.
Never miss a deal, tip, or recipes when you subscribe to our newsletter to the right of your screen —->