Everyone has the ability to express gratitude, no matter your current situation.  When you make it a practice to focus on the good, you start to shift your way of thinking.  You start see the beauty and happiness in your world, rather than the pain and struggle.  The world around you seems happier, more joyful.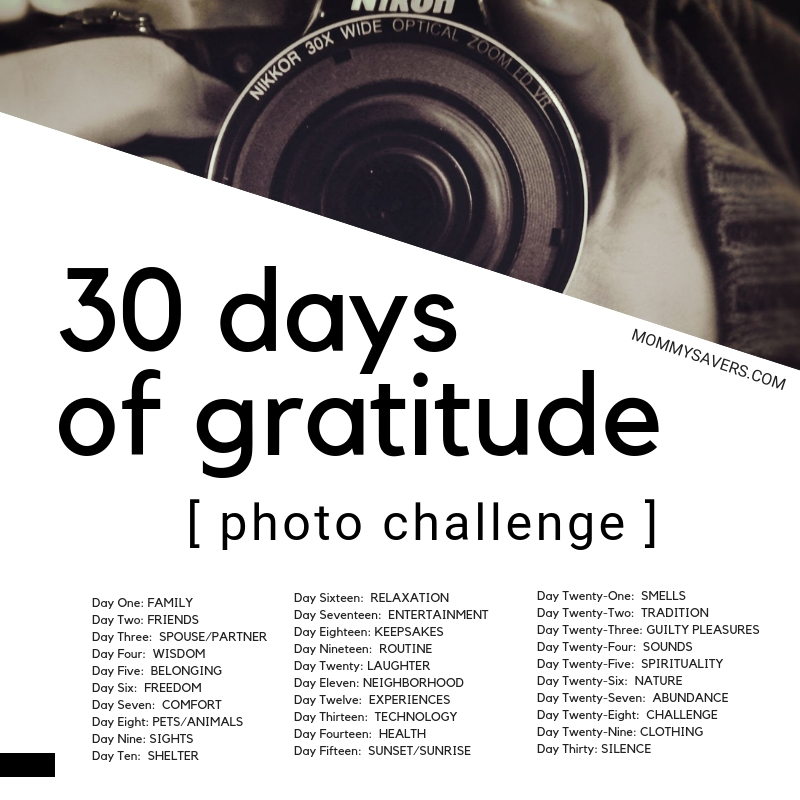 Here's How it Works:
Each day, take a new photo of something in your life that sparks gratitude.  To make it easier, here is a 30-Day Gratitude Photo Challenge List (Here's our printable.pdf: 30 Days of Gratitude Photo Challenge) . For personal accountability, I recommend doing this challenge on social media.  Pick either on Facebook, Instagram or Twitter.  Upload your images daily, hashtagging them #30daysofgratitude2018 and #mommysavers so I'll follow you back!  Each day, post a photo of something or someone you're thankful for and a one or two line explanation of the meaning.  This practice is a great way to flood your social media feeds with positivity and inspiration, rather than judgment and criticism.  After a few days of doing this, you'll start to notice comments and support from others as well.
Have fun with the concepts below, knowing that some topics will be easier to capture as images than others.  What you photograph is just a representation of the concept, so get creative.  For example, to you freedom could be represented as a photo of your car.  To others, it may be the United States flag.  There are no right or wrong answers, it's all about capturing what sparks meaning to you personally.
Change Your Perspective – Get Creative!
To really the most out of this challenge, challenge yourself expand your photography skills as well.  Think outside the box.  Look at things from different angles, different perspectives.  Instead of shooting something head-on, get low or shoot from high above your subject.  Zoom in, zoom out.  The point is to try something different each day.
30 Days of Gratitude Subjects:
Day One: FAMILY
Family is the foundation of gratitude for so many of us.  When we're feeling down, depressed, they've got our backs.
Day Two: FRIENDS
Friendships enhance our lives in so many ways.  Celebrate the friends in your life with today's assignment.  If you don't see any friends today, feel free to swap this topic with another day.
Day Three:  SPOUSE/PARTNERS
Even if you're not married, the significant others in our lives – besties, business partners play a meaningful role in our day-to-day lives.
Day Four:  WISDOM
What is something you've learned this year, this week, or today?  Celebrate the wisdom you've gained in the process.  Life isn't easy, but when we learn from our mistakes and strive to be better… it flips the negative to a positive.
Day Five:  BELONGING
A sense of belonging is a special feeling.  Belonging isn't the same as fitting in.  Being a part of something bigger despite all our differences is what belonging is all about.  What gives you a sense of belonging in life?
Day Six:  FREEDOM
Freedom is a state of being that we all too often take for granted.  We tend to only focus on it when it's taken away.  What gives you a sense of freedom?
Day Seven:  COMFORT
It may be a a special pillow, your favorite slippers, or even a person.  Who or what provides you with daily comfort?
Day Eight: PETS/ANIMALS
Most of us have pets in our lives that aren't just special, they're part of the family.  Today, let's celebrate them!  If you don't have a pet, are there animals that you love?  If not, no worries… just get creative with this assignment or swap it with another topic.
Day Nine: SIGHTS
Today, let's express gratitude for our sense of sight.  There is so much beauty in this world, but if we don't actively look for it, it's easy to miss out on.  Today, post a photo of something you find visually appealing.
Day Ten:  SHELTER
Whether you live in a luxury home, an apartment or have temporary shelter… you need to be thankful for that basic need.  What is one of the best aspects of where you live?
Day Eleven: NEIGHBORHOOD
Everyone lives in some sort of community.  Today, look around and see what you notice and appreciate about the community in which you live.
Day Twelve:  EXPERIENCES
As we go through life, we experience a wide variety of things.  What sorts of activities will you engage in today?  What is the best part about them?
Day Thirteen:  TECHNOLOGY
Technology can be used to enhance our lives, connect us with others.
Day Fourteen:  HEALTH
Today, your mission is to celebrate wellness.  Your body is an amazing creation, capable of so many things.
Day Fifteen:  SUNSET/SUNRISE
If it's a cloudy day, feel free to shoot the clouds.  They're beautiful too.
Day Sixteen:  RELAXATION
When you've put in a hard day's work, how do you relax?
Day Seventeen:  ENTERTAINMENT
What do you do for fun in your life?  What keeps you entertained?
Day Eighteen:  MEMORIES/KEEPSAKES
Do you have any special memories, collections or keepsakes at home that you truly treasure?  What sort of memorabilia sparks a feeling of nostalgia?
Day Nineteen:  ROUTINE
Routines help us stay grounded, on task. What are some things you do daily that enhance your life?
Day Twenty: LAUGHTER
Laughter is truly good for the soul.  What, or who makes you laugh out loud?
Day Twenty-One:  SMELLS
Pumpkin pie, your favorite perfume, fresh flowers… all simple pleasure we often take for granted.  Today, photograph something in your home that smells good.
Day Twenty-Two:  TRADITION
As we enter the holiday season, it's time to continue long-standing traditions or start new ones.  What are some of your favorite family traditions?
Day Twenty-Three: GUILTY PLEASURES
Netflix binges, a glass of wine, or your US Weekly magazine subscription… what's your guilty pleasure?
Day Twenty-Four:  SOUNDS
We tend to only notice annoying sounds… dogs barking, kids bickering, or sirens blaring.  Today, switch your focus to sounds you enjoy.  What are they?
Day Twenty-Five:  SPIRITUALITY
Whether you're religious or not, chances are you feel connected to something bigger.  Today, find a visual representation of what that means to you.
Day Twenty-Six:  NATURE
We live in a beautiful world.  Today, step outside and take a few moments to appreciate nature and capture an image of what you see.
Day Twenty-Seven:  ABUNDANCE
We live in abundant times.  Our cups overflow in so many areas. What makes you feel abundant?
Day Twenty-Eight:  CHALLENGE
Without challenge, there would be no change.  What is currently challenging in your life?  Celebrate it!  It may be difficult, but our challenges make us better people.
Day Twenty-Nine: CLOTHING
Do you have a favorite piece of clothing? What makes you feel beautiful, comforted, or confident?  Today, share a photo of one of your favorite pieces.
Day Thirty: SILENCE
Sit and reflect on your 30 Day Gratitude Challenge.  Enjoy the silence.  How will you capture it?
I've Completed the Gratitude Challenge… Now what?
When you've completed the 30 Days of Gratitude Photo Challenge, you can print your Instagram photos and create a collage with them, or some other sort of meaningful display.  Walgreens Photo allows you to print your Instagram photos as squares, which is really cool and artistic.  Or, you can create a photo wall with the Mixtiles app.