What is a White Elephant Gift?
Most of us are familiar with the basic idea behind a White Elephant Gift Exchange, but really not sure where it originated.  The term "white elephant" basically means an item you keep around your home, whose value has tanked but you have a hard time getting rid of it.   According to Wikipedia, the term white elephant refers to an extravagant but ineffectual gift that cannot be easily disposed of, based on the legend of the King of Siam giving rare albino elephants to courtiers who had displeased him, so that they might be ruined by the animals' upkeep costs. 
How to Host a White Elephant Party
If you're hosting a white elephant gift exchange, you'll need to ask the party attendees to bring a wrapped gift.  The gifts can be used, something people already have around the house or something that's purchased, but it's typically in the $10-20 range (as the host, you specify the value). The White Elephant Gift Exchange works best where there are at least at least 6-10 people in attendance, but it can work with larger numbers as well.
White Elephant Gift Exchange Rules
There are a lot of different variations on the White Elephant Gift Exchange, so it's really up to the host to set the rules.  Typically, each person who attends the White Elephant Party brings a wrapped gift to contribute to the gift pool.   When deciding who goes first, the host can either have participants draw a name or draw a number.  The person who drew number 1 goes first, followed by 2, 3, 4 and so on (the best number to draw is the highest number, because that means he or she can pick any of the gifts in play).
Players sit in a circle in the order in which they take their gifts, with the presents in the middle. Player 1 takes a gift and opens it.  Player 2 can choose to either pick an unwrapped gift from the gift pool, or "steal" on of the gifts that has been unwrapped already.  If a gift gets stolen, the person who had that gift gets to select again.  When all the gifts have been distributed and nobody wants to "steal" the game comes to an end.
Here's a How-To Guide for your White Elephant Gift Exchange:
https://www.youtube.com/watch?v=04AjQ4tzZ7c
How you do it is totally up to you, but here are a few suggestions:
Make Up New Rules
Don't worry about sticking to the traditional White Elephant rules, sometimes it's more fun to make up your own.  If you've done this each and every year with the same group of people, consider switching it up and doing things a little differently.  Here are some ideas and suggestions:
Nobody is allowed to steal gifts
Set the theme of the gift – Ugly Christmas sweaters, holiday decor items, consumable gifts, etc.
Once something is stolen once, it cannot be stolen again
No unwrapping gifts until the en
Everything should fit into a Christmas stocking
At the end of the swapping, set a timer.  Pass the gifts around and whichever one you're left with when the timer goes off is the one you go home with.
Use dice to determine who gets which gift (see photo below via Lilian Skinner)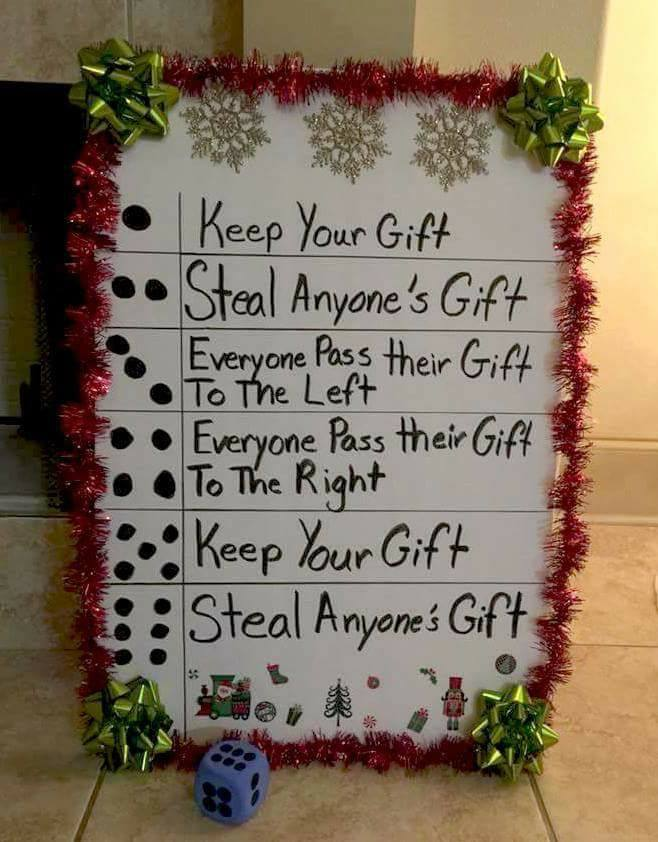 White Elephant Gift Exchange Variations
Yankee Swap – The game is said to have been named after the civil war holiday tradition of trading prisoners of war with the enemy.   You can download a .pdf of the rules HERE
Dirty Santa – Unlike a White Elephant gift, "Dirty Santa" gifts are usually gifts the recipient actually wants or may use.
Secret Santa – In a "Secret Santa" gift exchange, you know who your recipient will be.  Generally, you draw names from a hat beforehand to determine who you'll buy for.  You can use technology to make it easier – sites like elfster.com can randomize the selection of names for you.
White Elephant Gift Ideas
For these white elephant gifts, think of things you have around your home that someone else would actually find useful.  Just because you don't value them, doesn't mean someone else won't.   As the saying goes, one person's trash is another person's treasure.
Partially used gift cards
Kitchen gadgets you rarely or never use
Holiday decor
Food from your pantry such as cake mixes, dinner kits or jarred sauces (put it in an used basket or container you already have)
Clothing and accessories you no longer love or wear
Do you hoard hotel soaps and shampoos?  Turn them into a "pamper yourself" gift basket!
Funny White Elephant Gift Ideas
You may want to take a more entertaining approach to your white elephant gift-giving.  Here are some ideas that are sure to get a laugh when opened up, many of which you have at home already.
An ugly Christmas sweater
Something that declares you're better than someone else, like the "World's Best Boss" mug, a trophy, or a t-shirt from a 5K or 10K race you ran
Something your Grandma, Aunt or relative made for you that was not exactly your taste
Souvenir mugs, shot glasses or barware with tacky sayings on them
Anything made-for-TV or infomercial items (think the Flowbee, a Snuggie or Thighmaster)
Get rid of your unused collection of frames– but to make it funny, download some funny photo memes from the internet like the Most Interesting Man in the World, First World Problems Girl, Scumbag Steve or The Ermahgerd! Girl.
Annoying kids' toys, the louder the better
Anything musical, such as Singing Billy Bass or a Farting Mug
Anything reminiscent of an era, such as your Caboodles case with crimping iron and scrunchies, or a few of your hair band cassettes from the 80s or boy band CDs from the 90s
White Elephant Gag Gifts
If you don't have a lot of junk around your home, first of all, that's great!  Secondly, you may need to go out and purchase your white elephant gift.  Here are 20+ ideas that cost less than $20 on Amazon:
Unicorn Snot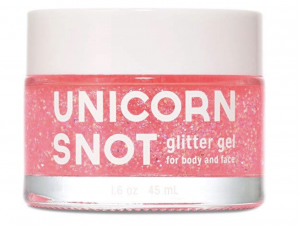 This Glitter Gel is perfect for those that aspire to possess unicorn magic.  It's vegan, cruelty-free and will make all your sparkly unicorn wished come true. Unicorn Snot Lip Gloss is also available.
A Farting-Themed Mug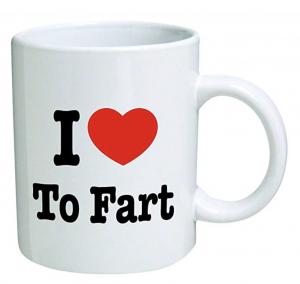 The Original Farting Mug – After all, even adults think farts are funny sometimes.  Other variations on this theme include:
Funny Fanny Packs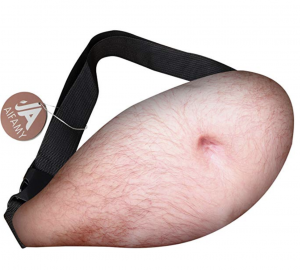 Beer Belly Fanny Pack Bag – This fanny-pack/beer belly belt is less than $15 shipped with Amazon Prime, but the reaction you get when it's unwrapped in your white elephant gift exchange will be priceless.  And, you know this pic is going to end up on social media #beerbelly #dadbod
You can put an additional gift, such as a gift card, mini booze bottles or lottery tickets. Another variation on this gift is the 6-Pack Abs Fanny Pack Bag
Wine Socks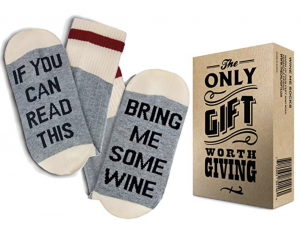 If You Can Read This Bring me Some Wine Socks – This gift is perfect for your wine-loving friends.  Since they're under $10 shipped on Amazon, you could easily pair these funny socks with a bottle of wine and still stay on budget with your white elephant gift exchange.  To make it even funnier, pair with a box of wine instead of a bottle of wine, or opt for some Boone's Farm… you know, to keep it classy.
Sassy Oven Mitt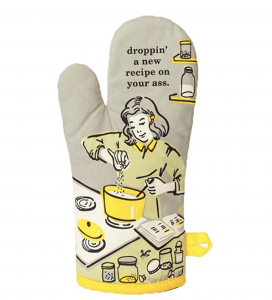 These Sassy Oven Mitts come in a variety of designs and sayings… and are freaking hilarious!  Plus, they're practical too.  After all, most people cook.  Super-insulated and 100% cotton.  They're currently just $12.99 with free shipping on Amazon.
Other Designs Include: 
I'm not bossy, I'm the boss
B—hes Get Stuff Done
Hot Hot Vegetarian Action
Most Likely to Microwave
Wine Purse
Insulated Wine Purse – Another one your friends will go nuts over trying to swap in the white elephant gift exchange.  This purse is insulated, holds a standard bottle of wine, and includes a corkscrew.  It comes in a variety of patterns and colors, but most are in the $18-20 range and some ship free with Amazon Prime.
This one costs a bit more, but depending on the dollar limit of your party you may also want to consider the Wine Box Tote.  It holds not just a bottle, but an entire BOX of wine, complete with a side flap for the spigot.
Chia Pet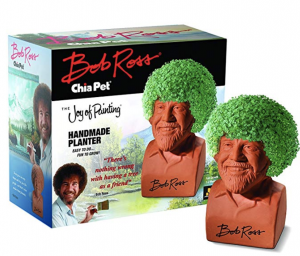 There are so many funny Chia Pet designs out now… from presidents past and present to Spongebob Squarepants, Hello Kitty, the Golden Girls and even Bob Ross.
LED Toilet Lights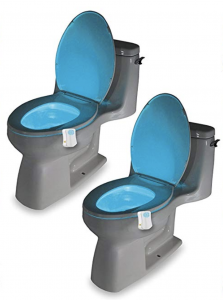 We all use them, why not make your going-to-the-toilet experience more interesting and fun?  These LED Toilet Lights are fun and CHEAP – just $14 shipped for TWO with Amazon Prime.  These lights alternate with 8 different colors and have more than one mode, making it easy for you to pick one color or change things up.
Pair this gift with some gag toilet paper and you're good to go… literally.
Funny Holiday Shirts and Tees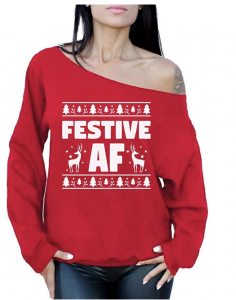 Funny holiday sweaters, tees and shirts are another go-to idea when selecting a White Elephant Gift.  Here are some that are available on Amazon for less than $20 shipped: