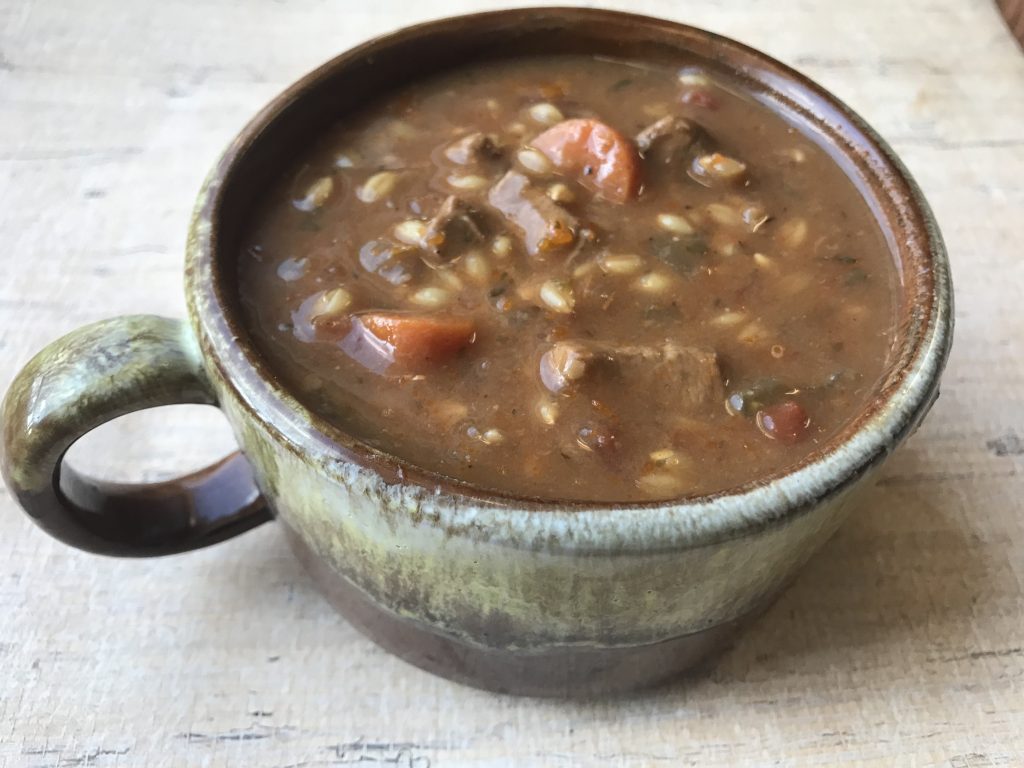 Barley has a texture similar to brown rice, but it slightly chewier.  It's got a nutty flavor that goes well with this rich, hearty stew.  You can find it near the soups in your grocery aisles, or in the organic section where you find other whole grains.  I used Bob's Red Mill Hull-less Barley, which you can get on Amazon.com if you can't find it at the store.
You can easily swap out the steak for leftover beef roast, ground beef, or mushrooms for a vegetarian version.  Use what you have on hand to make it even more frugal.  Potatoes, green beans, or green peppers go well with this recipe as well.
Beef Barley Stew Ingredients:
1 pound round steak, cubed
1 tsp. beef bouillon granules or one cube
2 Tbsp. butter
1/3 C. all-purpose flour
1 C. water
2 stalks celery, sliced
2 carrots, peeled and sliced
1 medium onion, diced
1 15-oz. can petite diced tomatoes, undrained
2/3 C. barley, uncooked
32 oz. beef stock
2 bay leaves
2 tsp. Worcestershire sauce
Tabasco sauce to taste (I added about 1/2 tsp.)
1 tsp. garlic powder
2 tsp. dried parsley
1 tsp. thyme
salt and pepper to taste
Instructions:
In a medium-sized frying pan, brown the steak.  Remove when done, but leave some of the bits on the bottom.
Add the butter, stirring the bottom of the pan to incorporate the beef bits.  Stir until melted.
Add the flour, stirring to make a roux.
Once the roux begins to brown, add the water and the bouillon granules.
Stir until thickened, remove from heat.
In a medium-to-large stock pot, combine all the remaining ingredients with the roux.
Bring to a boil, then reduce heat to a low simmer.
Cook for 60-75 minutes or until the barley is done.
Discard the bay leaves and serve.
Beef Barley Stew in Instant Pot / Slow Cooker:
You can easily make this recipe in the Instant Pot, from browning the beef to cooking the barley.  Cook on the high pressure setting for 15-17 minutes, and allow for slow release of pressure before you remove the lid.
For the Crock Pot/Slow Cooker, allow the stew to cook on low for 6 hours before serving.