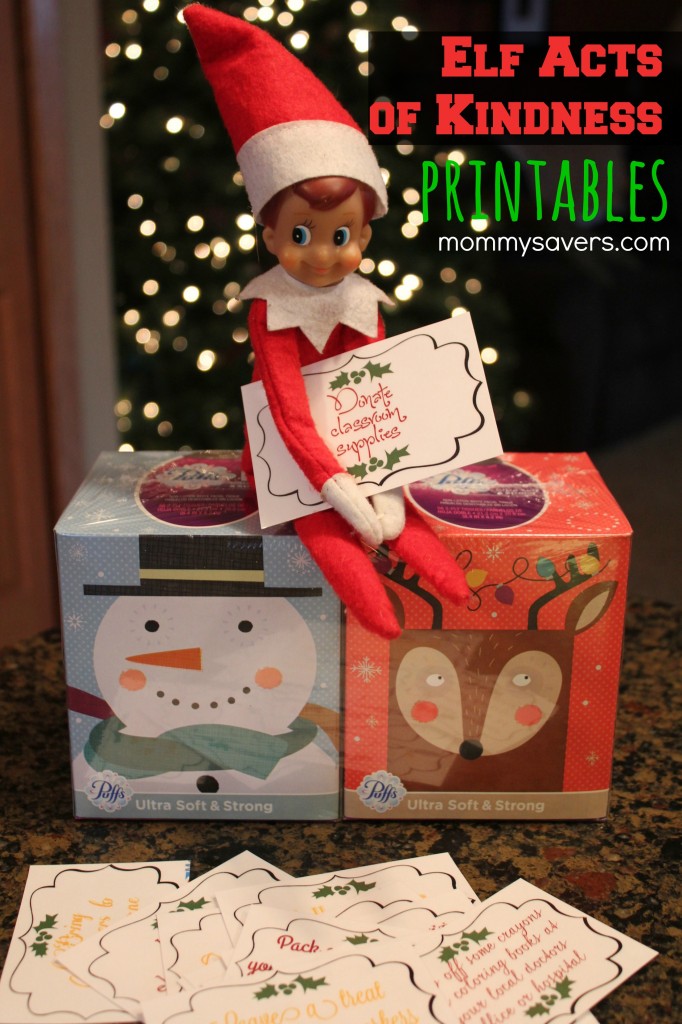 Your Elf on the Shelf doesn't have to be naughty. In fact, you can use your elf to inspire kindness. These Elf on the Shelf Printables can be printed and presented as ideas for you kids to help focus on the true meaning of the season.   I laminated mine and will keep in an envelope for next year. Comment below to let us know what acts of kindness your elf has committed this season!
Elf on the Shelf Printable #1
Elf on the Shelf Printable #2
Elf on the Shelf Printable #3
Donate toys
Call a relative just to say "hi"
Send a care package
Write teachers a thank-you note
Help an elderly neighbor
Donate classroom supplies
Bring flowers to someone
Bake cookies for someone
Offer to babysit
Leave "wishing pennies" near a fountain
Give outgrown clothing to a friend
Donate to the food shelf
Leave change in the vending machine
Create artwork for nursing home residents
Donate books to your school library
Leave a treat for your letter carrier
Leave a treat for sanitation workers
Make treats for the volunteer fire department
Drop off some crayons and coloring books at your local doctors office, or hospital
Bring flowers to a nursing home
Make "homeless bags" to keep in the car
Pick up litter at the park
Pack extra treats with your kids school lunch for them to share with friends
Donate dog/cat treats to the Animal Shelter
Check out the most updated round-up of Hundreds of Elf On the Shelf Ideas HERE.
Never miss a deal, tip, or recipe when you subscribe to our newsletter to the right of your screen —->