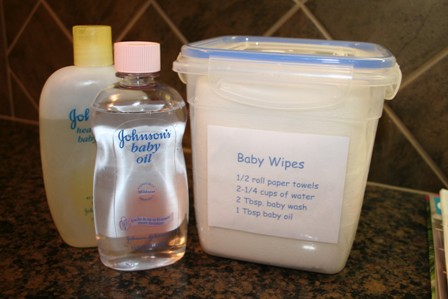 How to Make Homemade Baby Wipes
Making homemade baby wipes is not only easy, it's fun!  This homemade DIY version costs just pennies, which is much less than store-bought wipes.   You can save even more by using coupons for the paper towels, but don't skimp on quality.  If you purchase flimsy paper towels they will disintegrate and not hold up to daily use.  Look for the Subscribe & Save option for the Bounty Paper Towels and get them shipped to your home directly, and at a discount.
These wipes are much gentler on your baby's skin as well, because you control the ingredients.  If your baby has sensitive skin, use the gentle soaps and oils you know won't irritate.
Another idea is to use the liquid baby wipes solution with fabric baby wipes instead of paper towel.  Use a soft old t-shirt cut into 8×8 squares for your baby wipes, then they can be used over and over again.  Fold them in fourths, then pour the solution over the top just as you would with the paper towel baby wipes.  Or, you can keep the solution in a spray bottle near the folded fabric squares too, if that's easier for you.
I adhered the instructions on how to make homemade baby wipes to the front of my wipes container so it would be easy to find when I made them again.  These aren't just for babies, either.  They are great to keep in the car for wiping messy hands on-the-go.
Don't skip the step on boiling or purifying your water, either.  If you don't use your wipes within a week or so, and you have impure water, they will start to get moldy, which is pretty gross.
Homemade Baby Wipes Supplies:
1 roll of Bounty Paper Towels (or another thick, quality brand) paper towels
2-1/4 cups of distilled or boiled water
2 Tbsp. gentle baby bath or baby shampoo
1 Tbsp. baby oil or another oil like almond oil or olive oil
A few drops essential oils for fragrance, such as lavender oil or tea tree oil
A container like a plastic coffee can or Rubbermaid container to hold your baby wipes
Homemade Baby Wipes Instructions: 
 Cut the roll of paper towels in half.  I use an electric knife, which works really well.
  Place the roll of paper towels in a container (a large plastic coffee can or a Rubbermaid container works well).
  Mix all the liquid ingredients for the baby wipes together, and pour over top of the towels.
 When ready to use, remove the cardboard center of the paper toweling, and pull the paper towels up from the middle.
There you go:  Homemade baby wipes, fast, inexpensive and easy!
Video Instructions on Making Your Own Baby Wipes:
Do you have any advice on how to make homemade baby wipes?  What has worked for you?  Leave your reply below!