A general rule of thumb is to get rid of anything you haven't worn in a year.  That gives you the opportunity to use it in all the seasons, annual holidays and special occasions.  If you live in an area without seasonal changes, you may want to shorten that period to six months.  Also, get rid of anything that doesn't fit, or is out of style.  Another method is to turn all your hangers backwards on January 1st.  Then, at the end of the year, you'll see which hangers didn't get turned and which pieces were never worn.
Fold (Most) Clothing
If you're short on space, it's much better to fold your clothing rather than to hang it.  It's a space-saving technique and makes your clothing easier to find because you can see colors and styles displayed upright, like the spines of books, versus in a pile.  That said, the key is to know how to fold it, otherwise you'll end up with a mess within a couple weeks.  This photo shared on Instagram by Vero_Jack shows us how clean it looks.  She brought order to the chaos in her baby's drawer, and even organized by color.   She added a lavender cachet, so it not only looks great, it smells great too.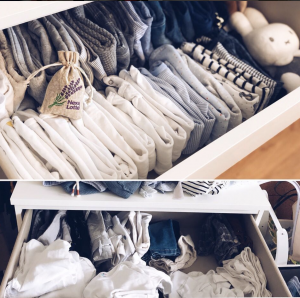 If you do stack items vertically, be careful not to stack them too high, otherwise they will topple over.
Store Like Items Together
It should go without saying, but it makes most sense to hang similar items together.  Hang dresses together, pants together, and shirts together.  This will make items easier to find.  Some people organize by style or outfit, but that method can be confusing and make items harder to find.
Create visual dividers between categories.  You can color-code them by hanger, or place a separator between categories.  For example, your tops could be hung on white hangers, your pants on green, and so on.
Store Infrequently Used Items on Top Shelves
If you have seasonal items you aren't currently wearing such as shorts or swimwear, store them on top shelves in labeled bins.  Handbags you're not using are also to smart to store on higher shelves.  Keeping a step ladder handy in the closet is also a great idea.
Try these Closet Hacks
Thanks to the internet, creative closet hacks are everywhere.  These are some of the most clever ideas I found on Instagram: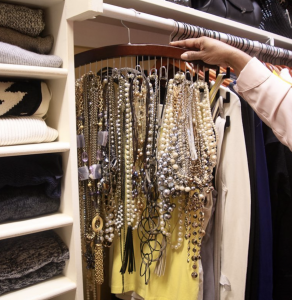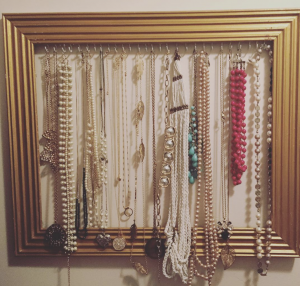 Command Hooks can help you store jewelry and other accessories on the wall.  Or, you could use a tie organizer like graciouslifestyles posted on Instagram, or turn it into a work of art with an old thrift store frame and craft-store hooks like desicrowley.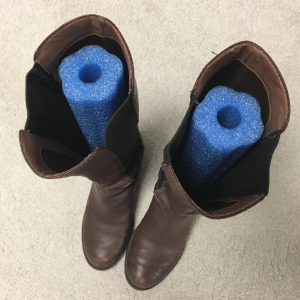 Pool noodles you get at the Dollar Store can be used to help store boots upright in your closet (photo via Nancy Dilts on Instagram).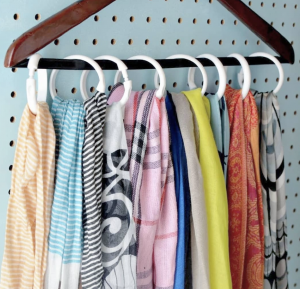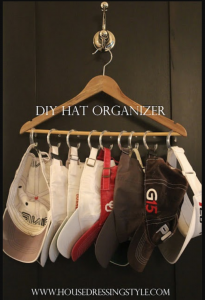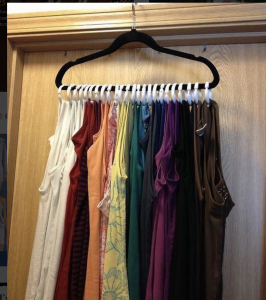 Shower hooks can be used to hang scarves, hats or tank tops in your closet (photos via Woolseason on Instagram, housedressingstyle.com and pinterest_diys_and_more).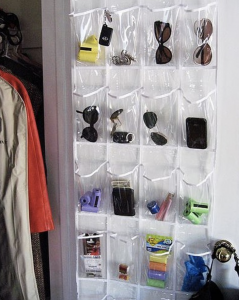 An over-the-door shoe organizer with clear pockets works great to store sunglasses, accessories and other items (photo via rinse_inc)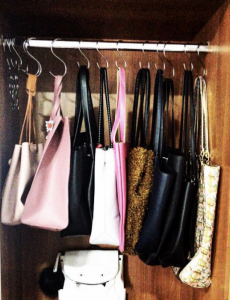 In tight spaces, you can use an expandable rod with s-hooks to hang small items like purses, scarves and other accessories (photo via preachyy_peach)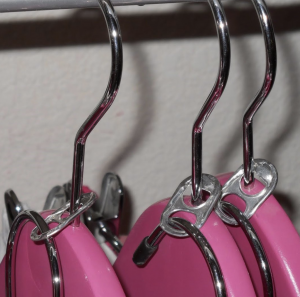 You can double up on storage space by using popcan tops (image via familyhandyman.com)