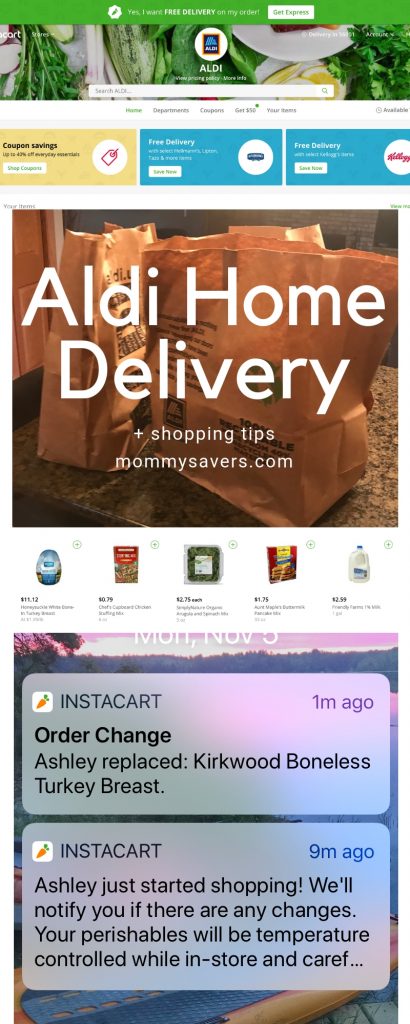 I love shopping at ALDI for my groceries because of their value.  Through product and process streamlining, ALDI is able to offer quality products at prices significantly less than their competitors.  So, a couple weeks ago I was excited to see that I was able to now get groceries delivered from ALDI via the Instacart app.  I gave it a try, and wanted to report back about my experience.
Getting Started with Instacart
Instacart is relatively new, and they advertise groceries delivered to your door in as little as one hour.  To get started, you can either download the app for your phone, or shop online.  Enter your zip code to see which stores are available in your area, add items to your virtual shopping cart, and check out.  When you do, you'll be given several delivery time options.  I placed my order in the morning, and was given delivery time options after 2pm that same day.  If you place your order in the evening, you're less likely to get same-day delivery.  ALDI may not serve your area yet, but since Instacart is expanding rapidly, it may be an option in the near future.
Who Works for Instacart?
Keep in mind that Instacart shoppers are not hired by the stores they serve (also Target, Cub Foods, Sam's Club, CVS, Hy-Vee, Petco).  In my area, they're hired by a company called Shipt and can earn up $20-$22 per hour.  However, Shipt employee reviews on Indeed indicate that workers have to pay for their own gas and the app often underestimates the time for shopping and delivery, which results in a huge bite out of those highly estimated hourly wages.  Most shoppers report making closer to $9 per hour, depending on the area they serve.
Workers both shop for and deliver items to customers.  In some locations, store pickup is available as well. If an item is not available, the shopper is empowered to substitute it for something else (more on that later).  It that happens, the customer will receive and update via the app and has the opportunity to communicate with the shopper to suggest a replacement.  Similar to Uber or Lyft, the customer leaves a rating (between 1-5 stars) and feedback on his or her experience with the shopper.  A tip is included in the price, but can be adjusted by the customer.How Instacart Worked for Me
Once my shopper started selecting my items at ALDI, I received a notification through the app.  I was also notified when she selected a replacement item (see screenshot on the left).  My shopper arrived on time with my orders and carried them up to the house (I told her to leave them on the doorstep, as I didn't want my dogs to bother her if she came inside).
It was quick, easy and convenient – I'd definitely do it again.  My delivery fee was $5.99 and tip was $4.  So, for about $10 I got someone else to do the legwork for me, plus help me save some gas, money and time.
The one caveat was the replacement item my shopper selected was significantly more expensive than my original choice.  I had selected a turkey breast for $11, and it was replaced with a whole, smoked turkey for $23.  The prices listed on the app were the same as what I was charged, so with the exception of the substitution I was not overcharged.  Instacart does state that while most prices are the same, some are higher than what you'd find in-store (view their pricing policy).
If you'd like to give it a try, you can use my referral code to get $10 off your first Instacart order.
Here's a Video on How Instacart Home Grocery Delivery Works:
More Aldi Resources: