When it comes to holiday entertaining, food shouldn't just taste good… it should look good too!  Here are some cute Thanksgiving desserts that will impress your friends and family.  These ideas are frugal and easy to make.  Plus, they're perfect projects for the kids to get involved with!
Nutter Butter Turkey Cupcakes – How cute are these Nutter Butter Turkey Cupcakes?   They're another fun way to use the Wilton Candy Eyes I love so much (who doesn't love the silly faces they create?!) These guys (and gals) are a fun Thanksgiving Recipe for Kids.   Because the kiddos will love to help you assemble them – AND "Gobble" them up!
Cocoa Krispies Turkey Drumsticks – These turkey legs are a sweet surprise… a fun twist on the traditional Rice Krispies Treats.  Instead, use Cococa Krispies or Cocoa Pebbles and shape them around a pretzel rod dipped in almond bark.  Instructions HERE.
Pilgrim Hat Cookies – They are super-easy Thanksgiving Treats to make, only require 3 ingredients, and involve no baking. They are so easy that you can literally make them just minutes before your Thanksgiving guests arrive.
Nutter Butter Turkey Cookies – These Nutter Butter Turkey Cookies also use the Wilton Candy Eyes.  Instead of resting on a cupcake, an Oreo cookie is their base.
Chocolate Acorn Treats – Chocolate acorn treats are not only delicious, they'd look great on any fall table or even as a at your Thanksgiving dinner.   Since no cooking is required, they're great to make with younger kids.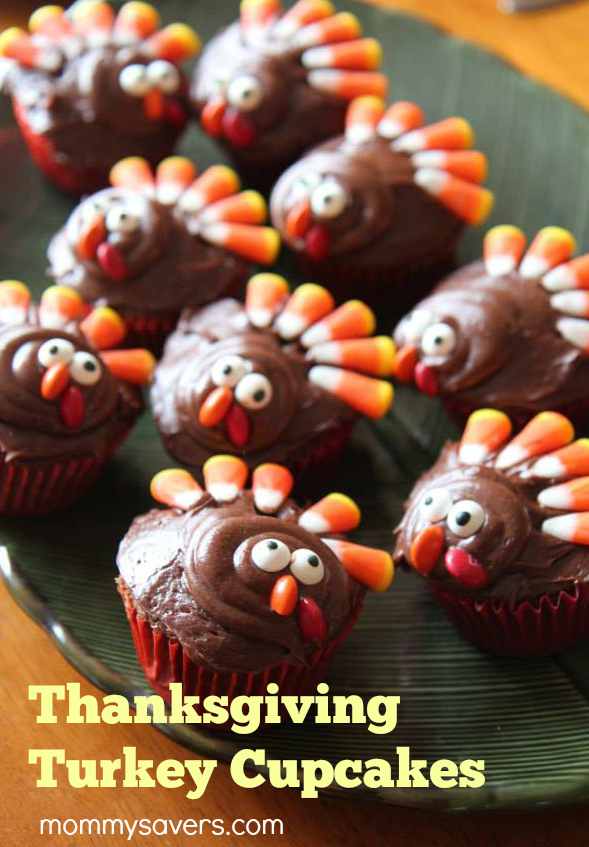 Here is another easy Thanksgiving Turkey Cupcakes idea – this one doesn't require cookies, just frosting and candies.
Easy Thanksgiving Turkey Cookies  – Ready in less than half an hour!
View more Thanksgiving Recipes on the Mommysavers Frugal Living Forum.