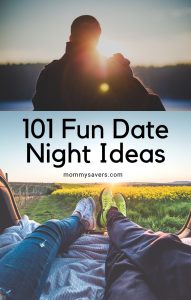 Sure, dinner and a movie can be fun– but it can also easily set you back $100. Date night doesn't have to be expensive to be memorable.  Challenging yourself to work within a budget for your night out (or in) can result in doing things that get you out of your comfort zone.  Whether you want to hit the town for a big night or just sneak some romantic time alone at home after the kids go to bed- having loads of cash is not a pre-requisite.  These cheap date night ideas are fun, too… definitely a win-win!
101 Fun Date Night Ideas
Netflix Movie Marathon – Netflix for a month costs less than a single movie ticket in many places, so it can't be beat for making movies cheap and accessible.  Make it a game.  You each come up with five movies you'd like to watch, and see if any of them match up.  If not, take turns crossing one off the other person's list until you're left with two.  If you have time, make it a double feature.
Just Appetizers.  Skip the entree and get two or three appetizers to share.  If you hit certain restaurants during happy hour, you may be able to save even more on small plate they offer.  You still get the experience of getting out and having someone else cook for you.
Dessert Date. Go out for desserts.  They're usually relatively inexpensive compared to entrees, even at fancy restaurants.
Re-create Your First Date.  Or, parts of it.  If you went to a Mexican restaurant and saw a Robin Williams movie, you can do that economically at home by making homemade enchiladas and watching the movie on Amazon Prime.
Listen to a Band.  Check the Facebook Events page to see which bars and restaurants have free, live entertainment.  It's great to get out and support local musicians.  Plus, a drink or two costs a lot less than concert tickets these days.
Shop for Each Other at the Thrift Store.  Set a $10 budget, and pick out items for the other person.  This truly feels like Christmas, is fun… and cheap!  Better yet, bring some items to donate along with you when you go to get rid of the clutter in your home.
Dance Party!  All you need is YouTube to teach yourself some sweet new dance moves.  Check out the Hustle, The Electric Slide, The Macarena, and so on.
Coffee at Barnes and Noble – A Grande Turtle Mocha can definitely feel like an indulgence, but will set you back less than $5.  Pair that with browsing together for books, good conversation and you've got yourself a date.
Pick out a Book to Read Together.  It only takes two to form your own private book club.  Landing upon a book you can read and discuss together can be something that truly draws you closer intellectually.  Visit the library to make this one a totally free date.
Check out the Kama Sutra.  For something a little bit more intimate, grab a copy of this book and see if it inspires you to try something new.
Who Bakes it Best?  Does your town have more than one bakery?  Round up a select item from each one (chocolate chip cookies, cupcakes, donuts) and do a side-by-side comparison.
Host a Pizza Bake-Off.  Head to the grocery store to get ingredients for homemade pizza.  The idea is to make the most original, tastiest one.  Select a winner.
Go on a Winery Tour.  Local wineries are popping up all over the place, and chances are there's one near you.  Tastings are usually relatively inexpensive because they're designed to promote the wines and get you to buy.  It's fun, and relatively inexpensive.
Set the Scene at Home.  Make dinner at home especially romantic by putting a tablecloth on the table, lighting candles, dimming the lights and putting on a relaxing playlist for background music.  Create a meal that would rival any restaurant.  You can even set up a card table in another area private of your house to make it feel out of the ordinary and special.
Go on a Brewery Tour.  If wine's not your thing, check out local breweries and order a flight of their beers to sample.
Turn the Mall into an Adventure.   There are all sorts of things to do at the mall besides shop, many of them inexpensive.  Ride the carousel, play games in the arcade, sample some food court fare, or get a mini-massage. Take pictures in the photo booth to commemorate your time together.
Take a Cooking Class.  Many larger grocery stores hold cooking classes.  Because their main objective is to promote their products and educate their consumers, they tend to keep the prices low.  Search your grocery store's website to see what events they have coming up.
Name that Tune.  Take turns playing some of your favorite songs on apps like Spotify or iTunes over dinner at home.  See who can name that tune first.
Test Your Knowledge with Bar Trivia.  Check out which local establishments host trivia nights and see who knows the most random fun facts.
Mini-Golf.  This is great when the weather cooperates, but some places have indoor mini-golf as well.
Take a DIY Class.  Check out Home Depot or Lowe's to see if they have any home improvement classes at stores near you.
Try Laser Tag.  This one is relatively inexpensive already, but look for deals on Groupon or Living Social to find even better deals.
Go Bowling. If it's not league night, it's usually pretty easy to get a lane at your local bowling alley.
Play Twister.  Don't have it?  Make your own Twister board with an old bed sheet or plastic shower curtain.
Bar Bingo.  Like bar trivia, bar bingo is a fun activity that usually doesn't cost much beyond the price of your drinks.
Fondue Night.  Plan a fondue night and start dipping!  Check out this recipe for Copycat Melting Pot Fondue
Go Hiking.  Find a local scenic overlook or park to explore.  Bring some food and wine for a fun snack break.
Dress-up Night.  Dress up and go to the fanciest restaurant in town, if only for a drink, a dessert or an appetizer.
Create a Bucket List. What are the top 20 things you want to do in the next year?  Write them down and put your list on the fridge at home.
Get a Day Pass at the YMCA or Health Club.  Some health clubs and YMCAs offer a free guest pass to those who are considering memberships or low-cost day pass options.  Go swimming, play racketball, or take a fitness class together.
Play Tourist in Your Hometown.  Even if you live in a small town, chances are you haven't seen everything there is to see or done everything there is to do.  TripAdvisor has lists of the top things to do in most towns over 25,000.  Check out the ones that are free or have low-cost admission.
Go to a County Fair or Local Festival.  Summer is great for outdoor fairs and local festivals.  People watch, grab something fun to eat and take in the sights and sounds. A quick Google search to find one near you.
Break out the Board Games.  Put on a movie or some fun music, break out the snacks and have a game-playing marathon.  Take turns picking the games.  Classics like Scrabble, Monopoly and Life are great for date night.
Watch a Movie Outside.  This is especially fun to do at home if you have a projector, but if not, check out local showings and drive-in movies.  Or, watch something on Netflix on your laptop while you chill in a hammock.
Roll Sushi.  Sushi can be expensive, especially at top-notch restaurants.  If it's something you enjoy, learn to make it at home.  Don't worry if your first few attempts fall short, it's not easy!  Just have fun with the process.  Check out this basic tutorial on how to make California rolls 
Sing Karaoke.  You can do this at a local bar, but if not, you can do it from home as well.  You'll find lots of Karaoke tracks on YouTube.  Gust search "Karaoke" and the names of your favorite songs.
Create a Couples' Vision Board.  Grab some old magazines, get some tagboard at glue sticks the Dollar store and make a vision board for your future together.  Places you'll visit, things you'll do, meals you want to eat, whatever gets you excited.
Play Where Are They Now?  Get out your old high school or college yearbooks.  Take turns telling stories about the people you knew, then look them up on Facebook to see what they're up to these days.
Play Would You Rather?  No board needed for this game.  You can find some interesting, thought-provoking questions here.
Create a Foodie Bucket List … and start checking things off.  This date night idea is perfect for culinary adventurers.  This book:  1000 Foods to Eat Before you Die is a fun place to start.
Cultural Theme Night.  Cook food, watch videos, and listen to music from an exotic locale of your choice.
DIY Photo Shoot. Try to get some great shots of you as a couple out and about on the town.  Find a scenic overlook, a fun brick wall to use as a backdrop, a mural, or the place where you first met.
Play Video Games.  Even if you don't have a gaming console, you can find some fun games to play on your phones or computers.  Make some bets to make the challenge more fun and interesting.
Spa Night.  Give each other facials, massages or soak your feet.  Here's an amazing homemade body sugar scrub you can make at home.
Play Pokemon Go.  Yep, this is the crazy game that may seem kind of nerdy, but it's free (all you need is the app) and fun.  Pick a location with a lot of Pokemon, typically a city or college campus.  Make sure your phones are charged up before you head out.
Surprise Your Spouse at Work.  If you have a partner that regularly pulls late nights at the office, surprise him with an impromptu dinner or snack break.
Draw Each Other.  Even if you're not artistic, this is a fun one.  Head to the local art store and get some charcoal pencils and sketch pads.  Spend some time drawing the other person.  What you end up with could either be, at best frame-worthy or, at worst, suitable for a great laugh.
Work on a Jigsaw Puzzle.  Barnes and Noble has a great selection of nice, high-quality jigsaw puzzles.  Go shopping for a fun puzzle then come home and start to put it together over a movie and snacks.
Reminisce About the Year You Met (or got married).  Watch the top movie of that year, listen to a soundtrack of top songs from that time, and look at your photos from that year.
Ice Cream at the Park.  If it's hot outside, this is a sweet date.  Go to the store and each pick out a quart of ice cream in a fun flavor.  Take it to the park and eat it while you sit on a blanket.  (don't forget the blanket and spoons at home!)
Go Skating.  Whether it's ice skating or roller skating, this can be a fun date night that's not too expensive.
Plan Your Next Trip.  Plan the location, itinerary, where you'll eat, create a soundtrack for the road, etc. Even if you can't afford the trip yet, this is a fun one if you allow yourself to dream.
Play Mad Libs.  Chances are you had one of these fill-in-the-blank pads as a kid.  Now, you can find Mad Libs Printables online or download the app.
Gear up for an Impromptu Garage Sale.  Collect unused items around your home, mark them, then spread the word on social media.  To make it fun, blast the music in your garage and buy a six-pack of beer to drink while you get to work.
Embrace the Holidays.  During the Halloween season, find a haunted house to visit. If it's Christmas time, drive around and look at the holiday lights.  If it's close to the 4th of July, light some fireworks (legally, of course).
Create Love Jars.  For this date night, you'll need two Mason Jars (or something similarly-sized) some sheets of paper, and two pens.  On strips of paper, write the things you love about the other person.  Then, take turns reading them aloud to the other person.
Play the Lottery.  Buy a some scratch-off cards, and roll the dice.  A $10 investment in your date could turn into a $100 amazing night on the town.
Watch the Sunset.  Go on a drive, and find a great place to watch the sunset together.  It's especially beautiful over a lake or river, where it can reflect the light.  Bring a blanket to lay on while you cuddle.
Take a Car for a Test Drive.  Go car shopping and take your dream car for a spin.
Train for a Race.  Find an upcoming 5K race and start training for it.  Or, go bigger… think half marathons or FULL marathons if you're really into fitness and want a challenge.
Go for a Bike Ride.  Bring a backpack with a blanket, snacks, and something to drink for a picnic break.  If you don't have bikes, look into renting them.
Visit Your College Campus.  Did the two of you meet at or attend the same college?  If you're close by, head back there and walk the campus.  Check out events that are going on like speakers, concerts or art shows.
Light the Fire. Plan your date around roasting hot dogs and making s'mores. A fire pit in the backyard is perfect when the weather outside cooperates. If you have a wood burning fireplace, you can do this at home in the winter.
Visit a Local Nursery or Garden Store.  Pick out plants for your home, or build a terrarium or fairy garden together (some nurseries have classes in this).
Play "Chopped".  Start with the same ingredients, then challenge yourselves to see which person can come up with the best-tasting dish.  To make it even more frugal, use this tactic to use up items in your fridge that are nearing their expiration date.
Build a Blanket Fort.  Get out the sheets, sleeping bags, pillows and channel your inner child for this one.  Grab your portable DVD players to watch a romantic movie inside.
Create a Time Capsule.  Record your favorites from the date – favorite TV shows, songs on the radio, restaurants, etc.  Don't forget to clip headlines from the newspaper or record events that are relevant to your life.  You can do this in an inexpensive blank book and do it every few months or each year.  The book then becomes a nice keepsake.
You Pick.  In the summer, find a you-pick farm and pick your own strawberries.  In the fall, visit an apple orchard or a pumpkin patch.
Play Yard Games.  If you have them, dig out the croquet set, badminton net, ladderball or bocce ball.  Create your own "Olympics" with a wager on what the winner will get.
Go Foraging.  Look for edible plants, berries and mushrooms and then go home and create a dish from them.
Visit the Pet Store or Animal Shelter.  Pet stores are fun to visit, even if you have no intention of making a purchase.  Better yet, find a time to walk dogs or clean cages at your local animal shelter.
Plan a Party.  Planning is half the fun, and can be a date in and of itself.  If you enjoy entertaining, plan a party – small or large- for your friends.  Pick the date, create the guest list, menu, playlist, and invitations.
Embrace the Weather.  If it's raining, put on your rain boots and grab an umbrella.  Walk through puddles, get wet.    Or, if it's snowing outside, put on your snow pants, hats and mittens.  Go out and build a snowman or make snow angels.
Create Photographic Art for Your Home.  Head out and snap some creative pictures of your town or community.  A black and white filter makes them look especially artsy.  Print them out and frame them to hang in your home.
Go to the Beach.  If you're lucky to live near the ocean, collect seashells to display in a glass hurricane vase.  Or, have a sandcastle building contest.
Head to the Pool.  Municipal pools aren't just for kids.  Check them out, bring a floatie (if allowed) and go for a swim.
Go to an Open House.  Check out home listings in your town, and find open houses that fit your schedule.  They're great for home decorating ideas, and sometimes free snacks!  Help the realtor market the home by taking pictures and sharing on social media.
Cheer on the Local Team.  If you live in a metropolitan area with a pro sports team, check out last-minute ticket deals on stubhub.com.  If they're too spendy, check out minor league games, college games or high school sporting events.
Build Something.  Head to Ikea and get an inexpensive piece of furniture you can put together.  This date has the added benefit of adding something functional to your home.
Take Online Relationship Quizzes.  This one from the Gottman Institute about how well you truly know your partner takes just a couple minutes to complete and is a great basis for conversation.
Hit the Warehouse Club Stores for Free Samples.  Are you a Sam's Club or Costco member?  Hit them up on the weekend, and you just may score some amazing free food samples.  If not, look at some of the fun frozen foods, meats, cheeses or other specialty food items and go back and cook at home.
Fly a Kite.  Chances are it's been decades since you've done this, if you've done this at all.  Head to a big box store or hobby store to find an inexpensive kite, then find a big park or open field and let it fly.
Do a Craft.  Head to Michael's, Hobby Lobby or some other craft store.  Find a craft you can do together and make that your date night activity. Why not paint a coffee mug, build a shadowbox, or try your hand at a macrame wall hanging?  You can even start making some homemade gifts to give to loved ones for upcoming holidays like Mother's Day, Father's Day or Christmas to save money.
Wash the Car.  Go through a car wash and splurge for the rainbow bubbles.  Make out during the rinse cycle.  Or, get out the buckets and sponges and wash your car in the driveway.
Go Geocaching.  Geocaching is billed as the world's largest treasure hunt.  You can download a free geocaching app and see what it's all about here: geocaching.com
Try Ghost Hunting.  Research ghost stories in your area and head out to check out areas reported to have paranormal activity.
Make Foil Dinners.  We call them "hobo" dinners.  They're great to take outdoors to your favorite hiking spot, or somewhere you can build a campfire.
Check out an Ethnic Grocery Store.  Get some fun new foods to try out at home.  Research recipes online, or ask the person working there what are some good, common dishes.
Go to a Dive Bar.  They're where drinks are cheap, and people watching is fun.  Splurge for some pull-tabs or search for one that has Bingo night or a Meat Raffle.
Declutter for Cash.  Can the two of you actually MAKE some money on your date?  Heck yeah!  Look around your home for things you no longer use that can sell on eBay, Craigslist or Facebook Marketplace.  Photograph them, list them, and watch the bids.  You can put the money you earn towards your next date!
Attend a Fundraising Dinner.  Most fundraising dinners are inexpensive, and the money goes to a good cause.
Find Some Food Trucks.  Food trucks are a great source for amazing food on a budget.  Find some in your area with a Google search "Food Truck + Your Town's Name".   Instead of visiting one for an entire meal, sample one thing at three or four of them, or, to make it even more frugal, go for just an appetizer or dessert.
Start a Dating Scrapbook.  Go to a hobby or craft store, pick out a blank scrapbook or journal.  Each time you go on a date together, snap a pic to add to your book along with a new journal entry.
Create a Couples' Pinterest Board.  Add ideas for your next vacation, home projects, holiday decorating ideas, recipe inspiration, other things you want to do together or projects you want to work on.
Take the $10 Challenge.  Shop online with a $10 budget, seeing who can "win" the date by getting the most bang for their buck.  Variations:  Buy a gift for the other person, see who can get the most items for $10, something to display in the home, etc.  It's especially fun for Amazon Prime members who benefit from free shipping. Plus, this date night keeps on giving as the items show up the following week.  Related:  Check out other Amazon Prime Perks you may not know about
Visit Historical Landmarks.  If the two of you enjoy history, why not learn more about the history of your own area?  Visit a museum, historical landmark, or even an antique shop.
Explore a Neighboring Town. It doesn't have to be big city, in fact, small towns are fun too. Anywhere you can walk through a downtown and grab a bite to eat works well.
Create a Family Calendar.  Sites like Snapfish and Shutterfly allow you to create custom calendars using your own photos.  Select a favorite pic from each month of the last year and make a calendar you can hang at home.  You can purchase these relatively inexpensively, especially if you can find (or wait for) a hot coupon code to apply to your purchase.
Attend a Church Service.  Many churches hold Saturday evening worship services.  Trying out a new church can be enlightening, and praying together can bring the two of you closer together.
Attend an Auction.  See if you can find any great deals.  Bigger auction houses may even serve refreshments or bring in food trucks where you can get some cheap things to snack on.
Go to a Fish Fry.  During the Lenten season, you can usually find a fish fry dinner in your community to attend on Friday night.  Most are pretty cheap.
I'd love to hear about your memorable, cheap date nights!  Share your ideas in the comments below, especially if it was something this list didn't cover.