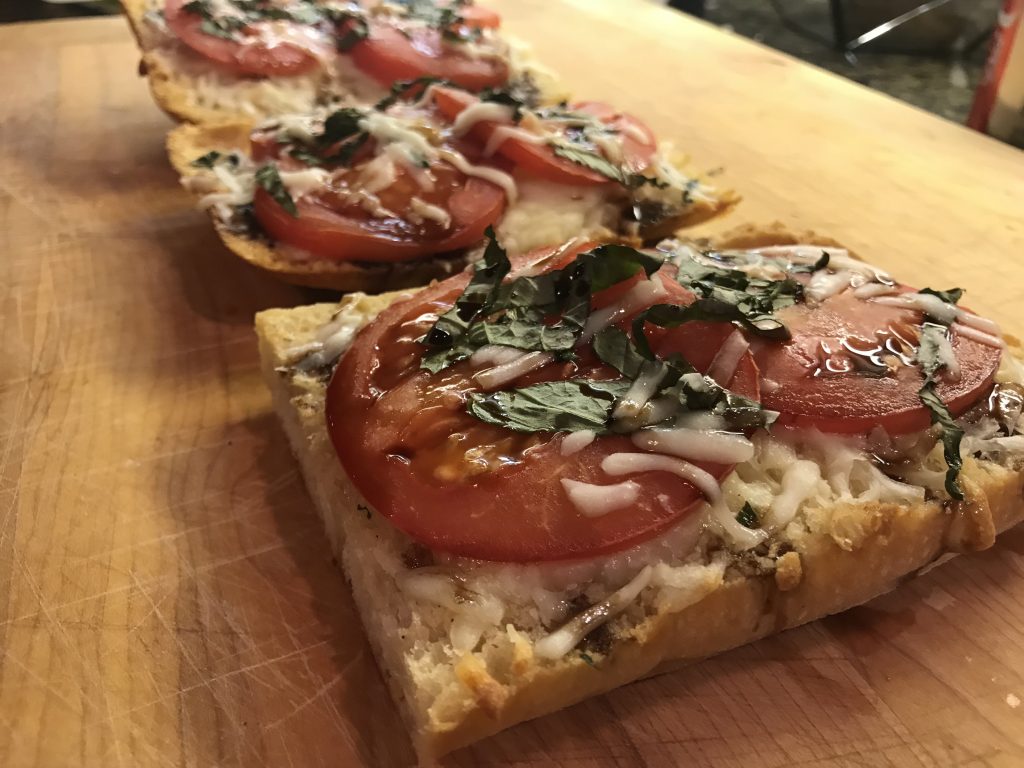 This easy recipe is great as a side, but you can almost eat it as a main course if you want a lighter meal.  It's popping with fresh flavors!  It's best at the end of the summer when you have fresh tomatoes and basil from your garden, but tastes great any time of year.
Caprese Ciabatta Bread
1 loaf ciabatta bread, cut in half lengthwise
4 Tbsp. salted butter
3 cloves garlic, minced
2 Tbsp. fresh parsley, chopped
2 tomatoes, sliced
2 C. fresh mozzarella cheese, shredded
Fresh basil leaves
Preheat oven to 350 degrees.  In a small bowl, soften butter in the microwave.  Add minced garlic and parsley.  Brush on the ciabatta loaf halves, spreading evenly.  Bake for 15-20 minutes, or until golden brown.   Remove from oven, top with the mozzarella cheese and tomato slices.  Bake an additional 8-10 minutes.  Remove from oven, then drizzle with the balsamic glaze (see below) and fresh basil leaves.
Balsamic Glaze
1/4 C. balsamic vinegar
1 Tbsp. honey
Heat in a small saucepan over medium heat, until simmering.  Reduce by half, until the glaze coats the back of a spoon.  I doubled the recipe so I'd have extra to use for other things (it's also great on roasted Brussels sprouts).