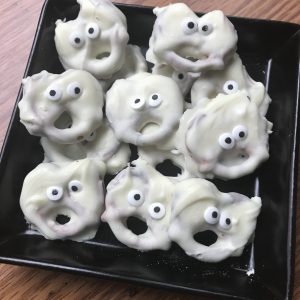 These cute little Halloween Ghost Pretzel Treats are so easy to make!  Plus, they only require a few supplies, and no oven is needed.  If you have a microwave, you're good to go!  From start to finish, you can be done in less than half an hour.  They'd be great to bring to a Halloween party or to put in little plastic bags to hand out as treats on Halloween night for special friends.
Supplies You'll Need for your Halloween Ghosts:
1/2 package white chocolate chips or almond bark
1 tsp. coconut oil, to thin slightly
Mini pretzels, like Old Dutch Tiny Twists
Wax paper or parchment paper
Instructions:
 Melt your white chocolate chips in a microwave-safe bowl, on medium-high heat in 30-second increments.  Stir in between, until chips just begin to melt.  Don't add more than 30 seconds at a time, or your chips will burn!
Once chips are melted, add 1/2-1 tsp. coconut oil to thin slightly.
Dip your pretzels in the melted chip mixture, enough to coat the entire pretzel.
Place your pretzel ghosts on wax or parchment paper.
Using a spoon, add a little extra melted chocolate in the two pretzel holes that will act as eyes, and make sure that the ghosts "mouth" hole is left open.
Next, add your Wilton Candy Eyes.  It can be helpful to use a food tweezers during this process to ensure proper placement.