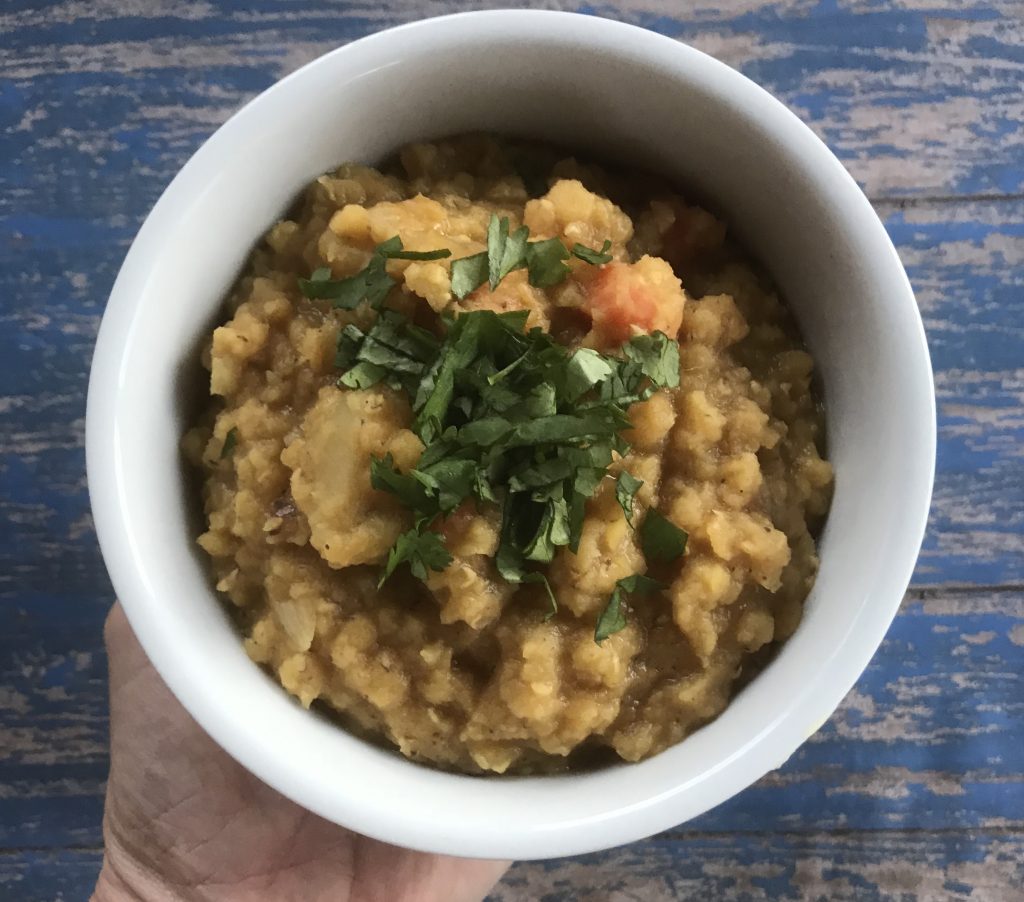 This vegan lentil soup is packed with flavor and is CHEAP.   Lentils are a great low-cost source of plant-based protein.  They're also high in folate and fiber, and with a 16-ounce bag only around $2-3 you get a huge nutritional bang for your buck (check out our list of top 25 cheap healthy foods).  I got all the ingredients for this stew for under $5, and it yields 4-6 servings.  I tried to dress up these photos to do this dish justice.  Unfortunately, it looks a little bit like baby food.  Fortunately, it tastes nothing like it.  It's got nuances of Indian flavors.  If you like this, also try our Crock Pot Chana Masala.
Ingredients:
1 16-oz. bag red lentils
1 Tbsp. Extra-virgin olive oil
1/2 large onion, chopped
1 large russet potato, peeled and cubed
1 carrot, chopped (or about 3/4 cup baby carrots, sliced)
2 cloves garlic, minced
1 teaspoon ground coriander
1 teaspoon cumin
2 tablespoons lemon juice (I use the kind in the bottle, if you have fresh lemons, use them)
6- 8 cups vegetable broth (use less for a thicker stew like the one pictured above, more for a lighter soup)
1/2 cups chopped fresh cilantro
Instructions:
In a large soup pot, heat the olive oil and saute the onion until translucent, about three minutes.
Add the potato and carrot, saute another 2-3 minutes.  Add the garlic, cumin and coriander.
Next, add your rinsed lentils and broth.  If your broth is unsalted, you may want to add a little salt as well.
Let this all simmer together for about 15 minutes until everything is heated through, and the lentils are tender.  If you want a chunkier soup, cook a few minutes less.  If you want to puree it and make it a smooth texture and consistency, let it go a few minutes beyond 15.
Garnish with the fresh cilantro, or add the chopped leaves right into the soup itself.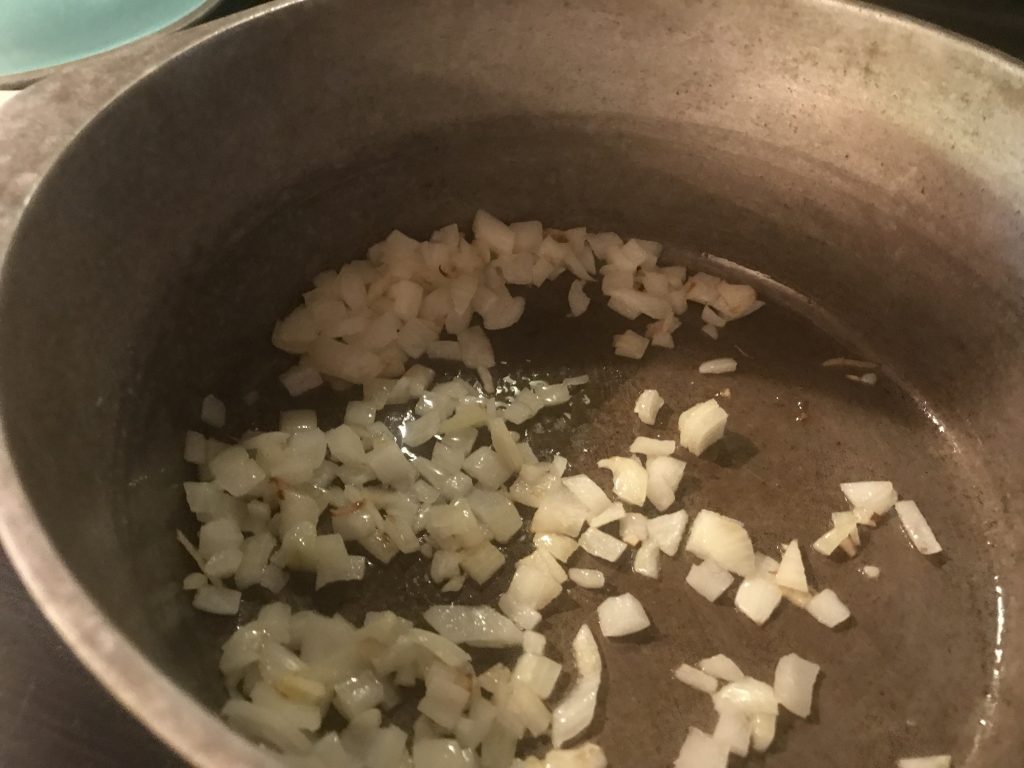 Give the onions a whirl in the olive oil until slightly brown (about three minutes)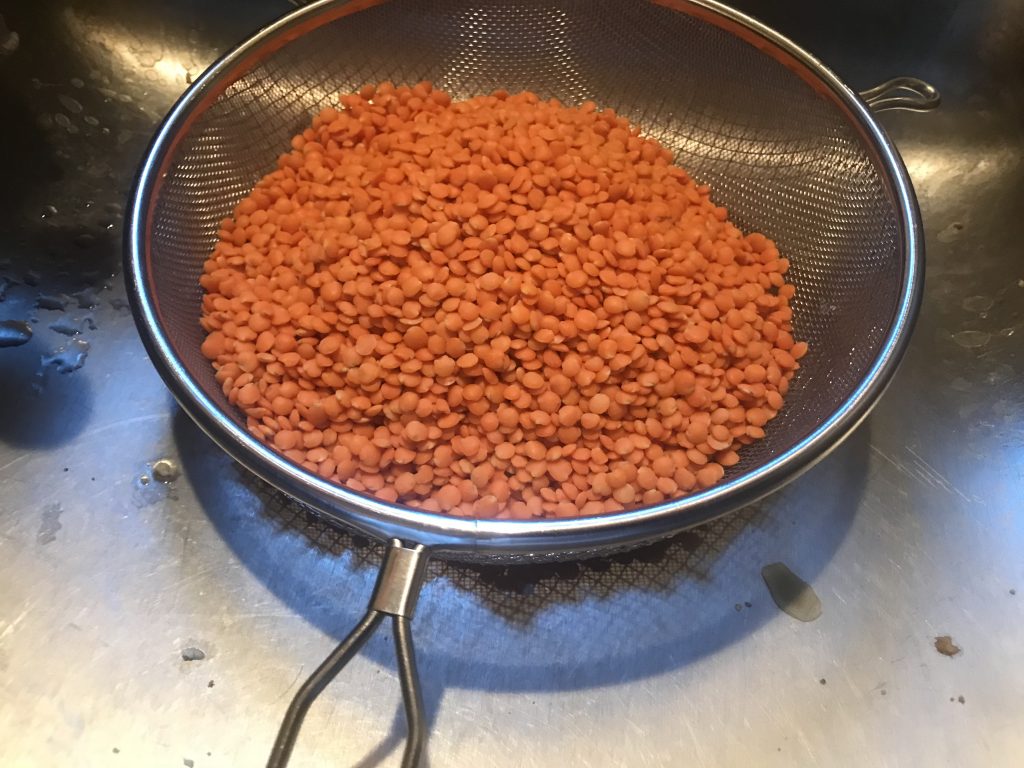 Meanwhile, rinse your lentils.  I love this stainless steel mesh colander for small items like lentils and quinoa that would typically fall through a standard colander.  Like beans, lentils are an inexpensive source of protein and fiber.  Plus, because they're smaller than beans, you don't have to soak them overnight.  BONUS.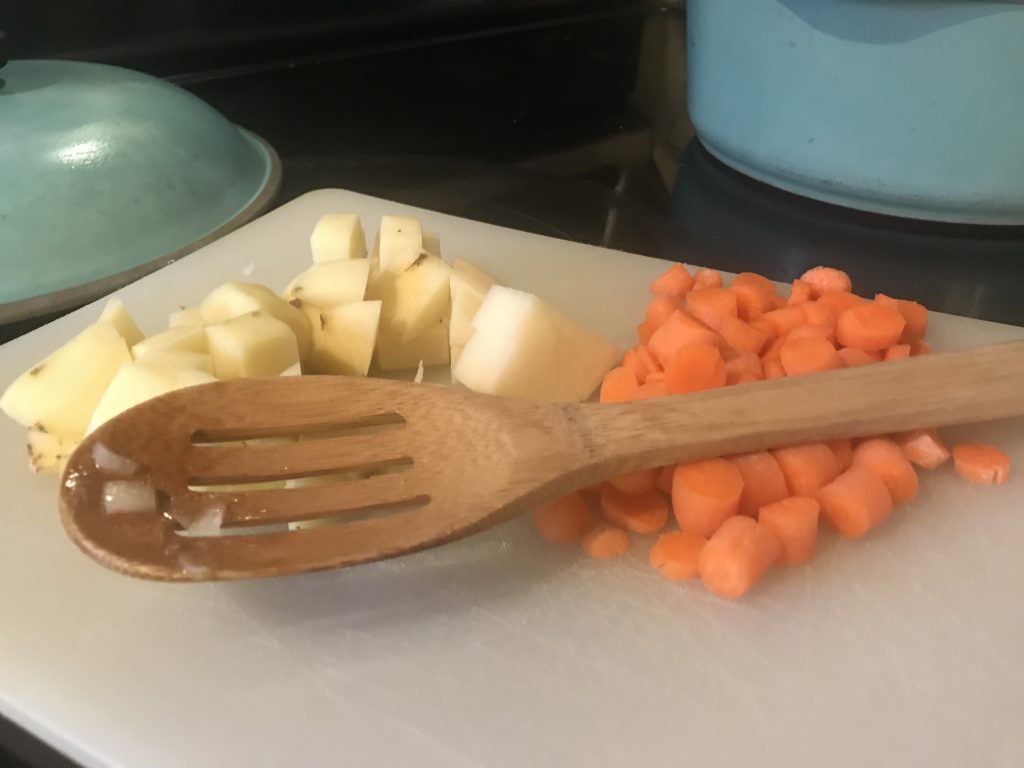 Cube your potatoes and slice your carrots.  I almost always get baby carrots, because I snack on them too.  You'd save even more money if you peel your own, however.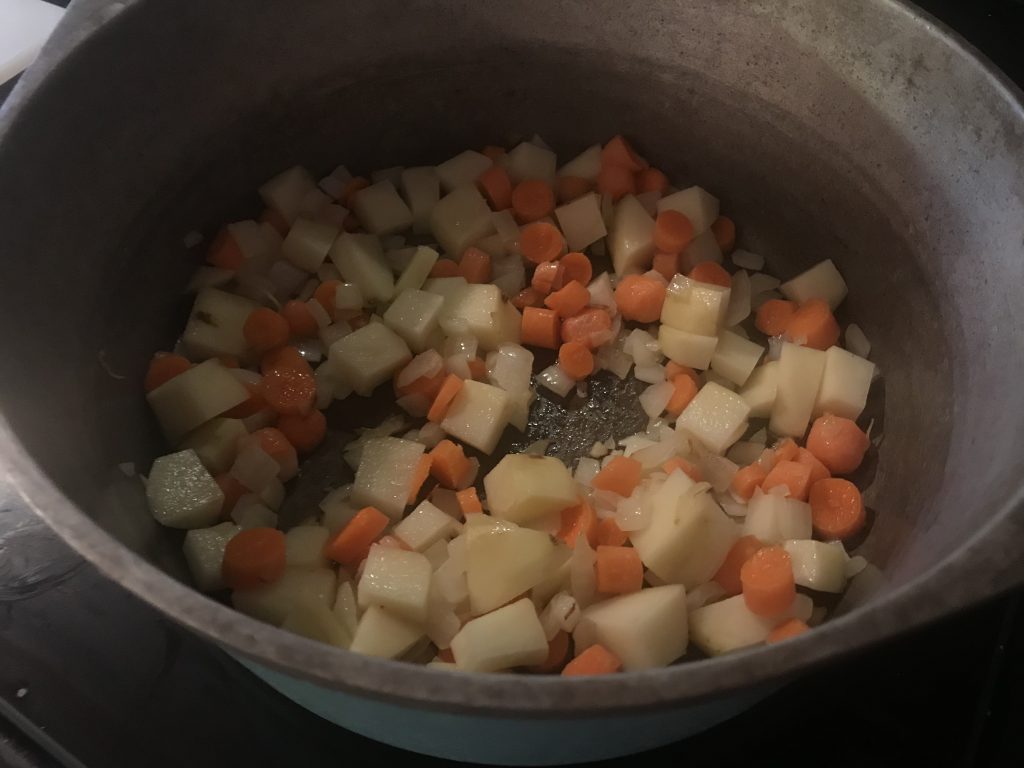 Add the potatoes and carrots to the onions and brown slightly.  Add the lentils and broth and simmer for another 15 minutes (give or take).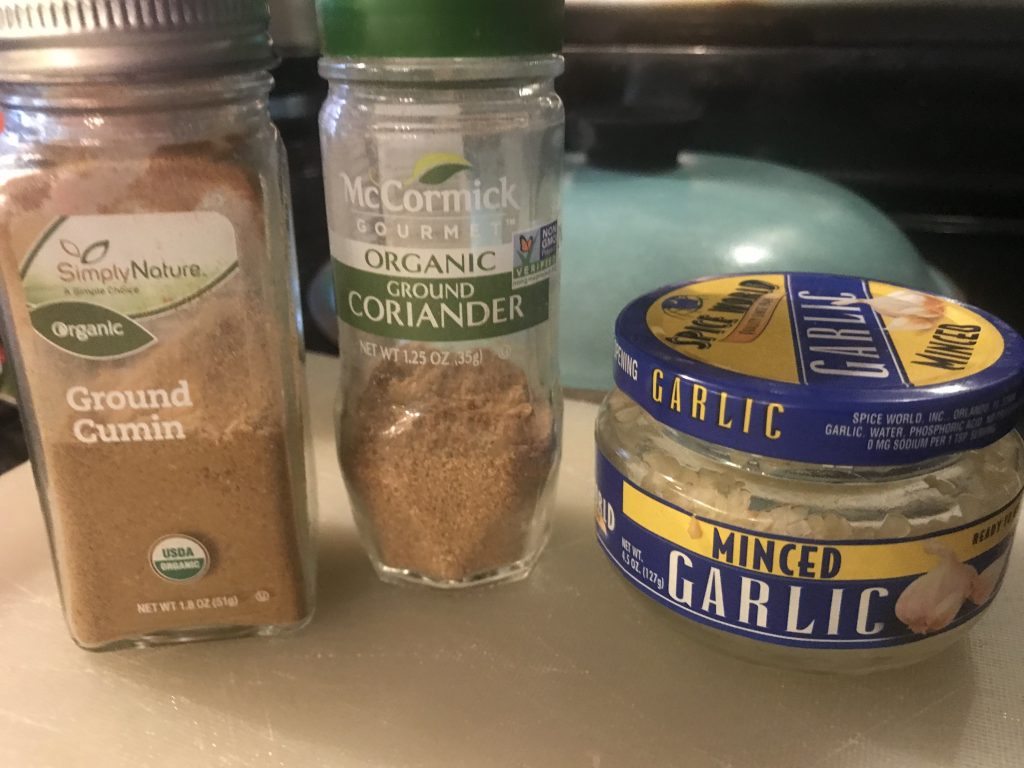 Make sure you add the seasoning – coriander, cumin, and garlic.  Coriander seed comes from the cilantro plant, but tastes nothing like it.  It's smoky, like cumin, so these two are a great pair.  Jarred minced garlic helps you avoid the peeling and chopping process with whole cloves.  Great for busy moms.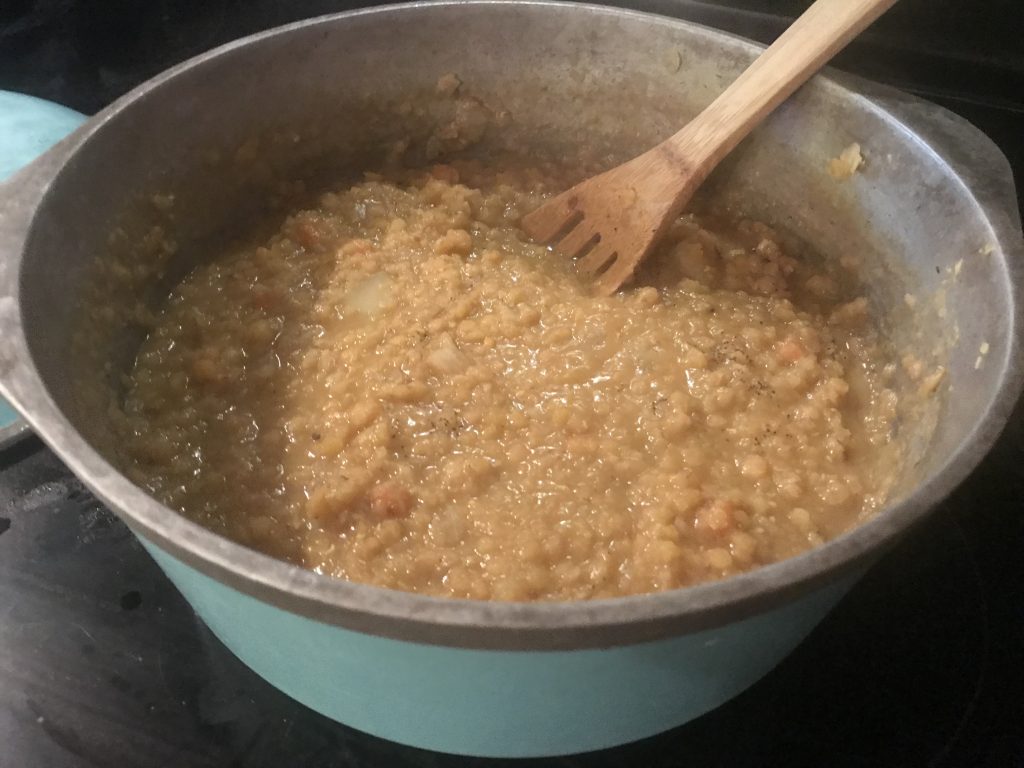 You can see at this point it really does look like baby food.  You could use an immersion blender to puree it for a smooth soup, or you could cook it a little less so the veggies and lentils remain chunkier.  Totally up to you.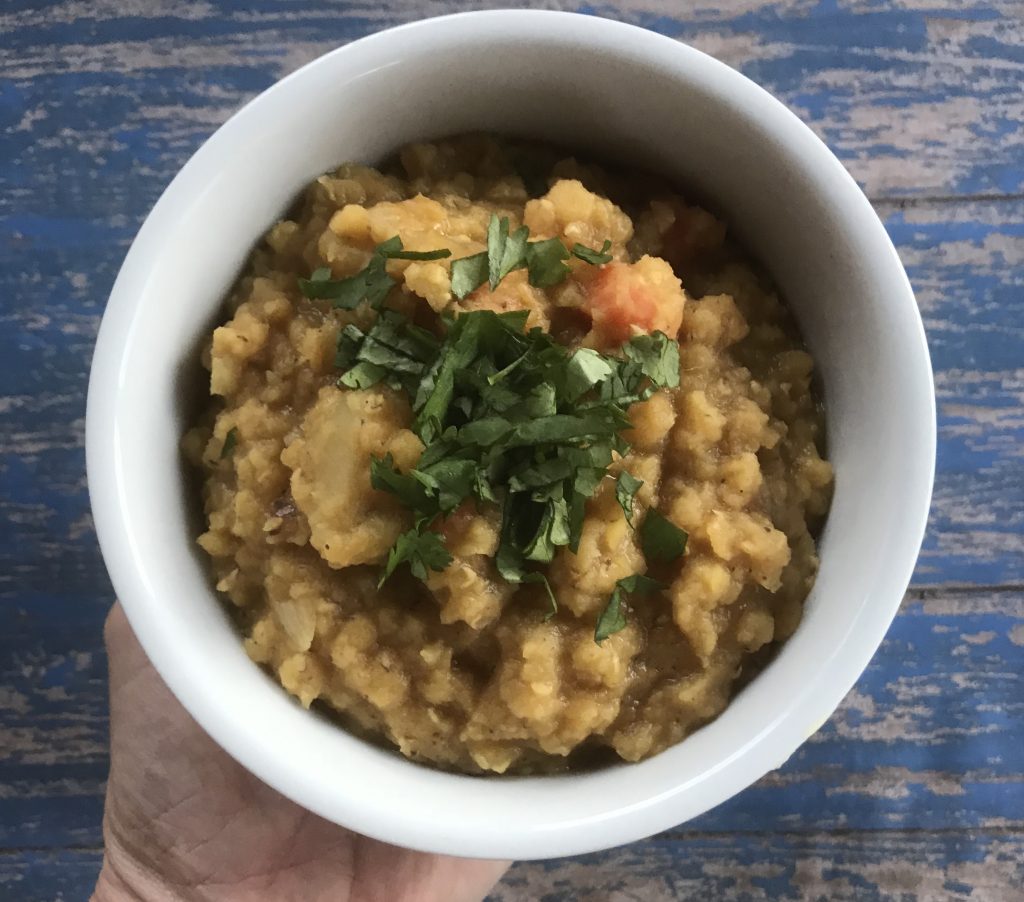 Garnish with cilantro and serve!