What Does Living a Simple Life Mean?
Generally, simple living means leading a life with less stuff and fewer obligations than the average person. In a world where we all have a limited resources, it means being very intentional about how time and money get spent, as well as removing the excess to make more room for what's truly important.  However, the term "Simple Living" has a different meaning for each and every person people practicing it.  It's deeply personal, subject to interpretation.
Life is really simple, but we insist on making it complicated. – Henry David Thoreau
Living According Your Values and Priorities
At its core, most people agree that simple living means living a life in line with values and priorities.  It's about voting with your checkbook and being diligent with your time.  Eliminating excess noise, clutter and things that don't matter.  Living intentionally.
In today's society of excess, so many people buy things they don't need and waste time doing things that add no value to their lives.  And,  when that becomes a habit, it can lead to feelings of incongruence.  They're basically saying they value one thing, but the way they spend their money and time doesn't back it up.   And, when people feel out of balance on a daily basis, it can lead them to make even more poor choices to ease the emotional discord like shopping, emotional eating, mindless social media scrolling, or even worse.  After all, those things give them a temporary high.
The ability to simplify means to eliminate the unnecessary so that the necessary may speak. – Hans Hofmann
Being Intentional with Time
Each dollar you spend either supports your priorities, or it doesn't.  The same goes for the way you spend your time. True simple living also means spending time on activities and efforts that supports your priorities.  Each minute is a vote for what's important to you.  If you're one of the many that has cast too many votes for Candy Crush, Netflix binge-watching marathons or trolling Instagram, you may want to re-evaluate your priorities.
This also goes for who you spend your time with.  Limiting time you spend with people who aren't good for your psyche and spending more time with people who lift you up and challenge you to live up to your potential is a form of simple living.  That's not always easy.  Life often throws us into situations we can't control, with people we don't always enjoy.  Focus on controlling what you can and not letting negative people affect you is a start, as well as making new friends and spending more time with those that are good for you.
If you'd like to get even more focused with your family time, start a family bucket list.
Voluntary simplicity means going fewer places in one day rather than more, seeing less so I can see more, doing less so I can do more, acquiring less so I can have more. – John Kabat-Zinn
Being Intentional with Possessions
Simple living usually includes a little decluttering.  Think of it as an excavation process.  We often have to eliminate the dirt to get to the treasure. Related Reading: Decluttering 101:  It starts with adjusting your mindset.  Simple living isn't just about living with less, it's about truly loving what you have and surrounding yourself with objects that are useful and meaningful.  It's also about leaving space for growth, and room for new experiences to enter.  You can't do that without some "white space" in your home.
The thing is, besides food, we really don't need most of the stuff we buy today.  We tend to shop for sport, filling our homes with  gadgets, trinkets, accessories and stuff that becomes an obligation than an enhancement.  It's not just money wasted, it's the time we spend shopping, organizing, and maintaining our things that detract from more purposeful living. That's time we could be spending in other, more meaningful ways.
While that can sound like no fun at all – simple living isn't about deprivation.  You can and should have things you need.  You can even have things you don't need.  You just get rid of what's not supporting your values and goals, as well as things that have outlived their purpose and don't add value to your life.  Less often truly is more.
Too many people spend money they haven't earned, to buy things they don't want, to impress people they don't like. —Will Rogers
How does simple living compare to minimalism?
Simple living has a lot of overlap with minimalism, but they're not exactly the same thing.  Minimalism is a tool you can use to live more simply, because it's basically learning to get by with less.  Simple living is deeply personal.  For some, simple living may not even mean paring down possessions, while minimalism almost always does.  Minimalism, by definition, means getting by with a minimal amount of possessions, less debt, and fewer obligations in order to enjoy more experiences than things.
Living Simply typically means defining priorities, and allocating resources and time only to those priorities, eliminating as many extraneous things as possible.  Typically, this means paring down of possessions, but not always.  For example, simple living for one person may mean getting back to basics, growing their own food, cooking from scratch, home schooling their children.  That may or may not include limiting possessions.  Someone who allocates their resources to that lifestyle may have more possessions than the average person, it just depends. Simple living has a broader meaning, more subject to individual interpretation.
It is preoccupation with possession, more than anything else, that prevents men from living freely and nobly." —Bertrand Russell
10 Steps to a Simpler Life
So, that's all well and good – but how does the average mom put all this into practice?  Here are ten basic steps to get started living a simpler life:
Define your Values and Priorities.  It can be morbid to think about it, but how would you want to be remembered after you pass away?  What would you want people to say about you, beyond the labels they attach to you… wife, mother, friend.  What kind of person do you want to be?  Kind, thoughtful, generous, creative?  Do this first by yourself, and, if you're married, get your spouse involved as well.  Sit down with him or her and go over the things that are most important to you as a couple.  Let those things be a guide as to how you spend your time and money.
Declutter.  Give serious thought about what you want to keep your home, getting rid of things that are not useful or beautiful.  Rooms with less clutter are more relaxing and take less time to clean and maintain.  There's even a financial benefit; you can sell off those items, putting the money towards items and experiences that have deeper meaning and support your priorities.  After you declutter, be intentional about new things you purchase, otherwise you'll end up in the same, unorganized spot over and over again.  Also, keep this in mind:  the smaller the purchases are, the easier it is to say they don't matter – but they do.  Be mindful of all purchases.  Follow a one in, one out rule after your decluttering process is done.
Evaluate How You Spend Your Time.  How you spend your time, and who you spend it with, should also be a reflection of your values and priorities.  Learn to say "no" to obligations that don't support your priorities or goals with zero guilt.  Spend less time on social media and in front of a screen.  In this day and age, screen time is a huge time suck.  Log off and spend more time with people that really matter.  There are other ways you can find more time in your day, like consolidating errand running, automating your bill payments, and giving up activities you truly don't enjoy.  You can also hire people to do things you don't enjoy doing yourself or aren't good at, especially if you have more money than time.
Spend Less Than you Earn.  It's a pretty simple concept, but the majority of Americans can't do it.  Don't spend more than you have.  Plus, saving money for an emergency fund and future priorities isn't just a smart financial move, it's also a great way to reduce stress.  Saving money to put towards your future priorities, like college for the kids or a retirement for you and your spouse goes hand in hand with living intentionally.  It helps you lead a more congruent life.
Stop Comparing.  Stop comparing yourself to others.   There will always be people that have more than you do, and get to do amazing, fun things you'd also like to do.  And, when you get on that hamster wheel of keeping up, it's hard to get off.   Learn to be happy where you are now, with what you have.
Create Space in your Day.  If your days are so jam-packed that you leave no time for reflection, there's also little room for growth.  Use that extra time to spend time in nature, go on a walk with your spouse, meditate, pray, read a book or just sit quietly.  Even if it's just five minutes, make it a priority.
Improve Clarity and Focus.  Multitasking is a myth.  In fact, by focusing on one thing at a time, you can actually improve performance.  In his book The One Thing, Gary Keller writes about recognizing that not all things matter equally; and narrowing your focus to only include the the things (or one thing) that matter most.  Doing so not only simplifies your efforts, it leads to greater life satisfaction.
Let Go of Mental Clutter.   What's that, you may ask?  You know, it's the pressure you put on yourself to be perfect.  The grudges you can't let go of.  The guilt you feel over things in your past you can't undo. Mental clutter weighs you down emotionally.Give yourself (and others) some grace and move on.
Express Gratitude.  Remember that list of priorities you came up with? Chances are your family and friends topped the list.  Give thanks for the people, things and experiences that enter your life that mean the most to you.
Create Systems to Stay on Track.  Build systems, routines and habits into your day that keep you on track with everything mentioned above. A quick cleanup after dinner, reading before you go to bed, or weekly runs to the thrift store to donate unwanted items can put simple living on autopilot for you.  The Miracle Morning is also a great resource for learning how to establish an effective morning routine.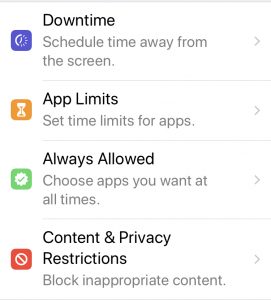 Simple Living Apps
These are some great apps that help live a more intentional, simple life:
Simple Habit – This app is great for maximizing the white space in your day.  Simple Habit can help you learn to meditate and be more present in your day-to-day life.  Get two weeks of premium free through this link
Screen Time – Now an automatic install with iOs 12, Screen Time can help you limit time on certain apps, and schedule time away from the screen.  It even tells you, on average, how many times you pick up your phone per hour.  You can find it from your home screen under Settings –> Screen Time
InstaCart – For a small delivery fee, you can do your grocery shopping online with Instacart and have it delivered directly to your door.  You'll save tons of time and legwork, as well as avoid impulse purchases.  I've used Instacart for ALDI deliveries.  NOTE:  Be aware that sometimes the groceries cost slightly more than you'd find in store.
WeDo – This is a great one to use for building new habits into your day.  You can set reminders and schedules for things like exercise, meditation, and reading.  Wedo
Simple Living Books
Here are some of the books I recommend most.  Not all of these are necessarily grouped into the "Simple Living" genre, but they do support different aspects and components of simple living:
The One Thing (I recommend this one if you are an entrepreneur, or struggling with focus)
The Miracle Morning (I recommend this one if you want to establish a morning routine that will add to your quality of life)
It's All Too Much (If you struggle with clutter, this book helps you uncover the psychological obstacles that may be holding you back)
Simplify Your Life: 100 Ways to Slow Down and Enjoy the Things That Really Matter (Another classic book, plus a quick and easy read)
Atomic Habits (If you struggle with putting your priorities into action, this book will help you create habits to support them)
The Not-So-Big-Life (Simple exercises to help you evaluate priorities and live intentionally)
Untethered Soul (If you have internal work to do on letting go of mental baggage, I recommend this book)
Feng Shui Your Life (How you can re-arrange your home for simplicity and optimal energy flow)
The Life-Changing Magic of Tidying Up (Creating systems for organizing and discovering which items truly "spark joy")
Simple Living Blogs
If you're interested in reading more from those living the simple life, check out these blogs:
Our Related Blog Posts
Other blog posts on Mommysavers.com you may want to check out: