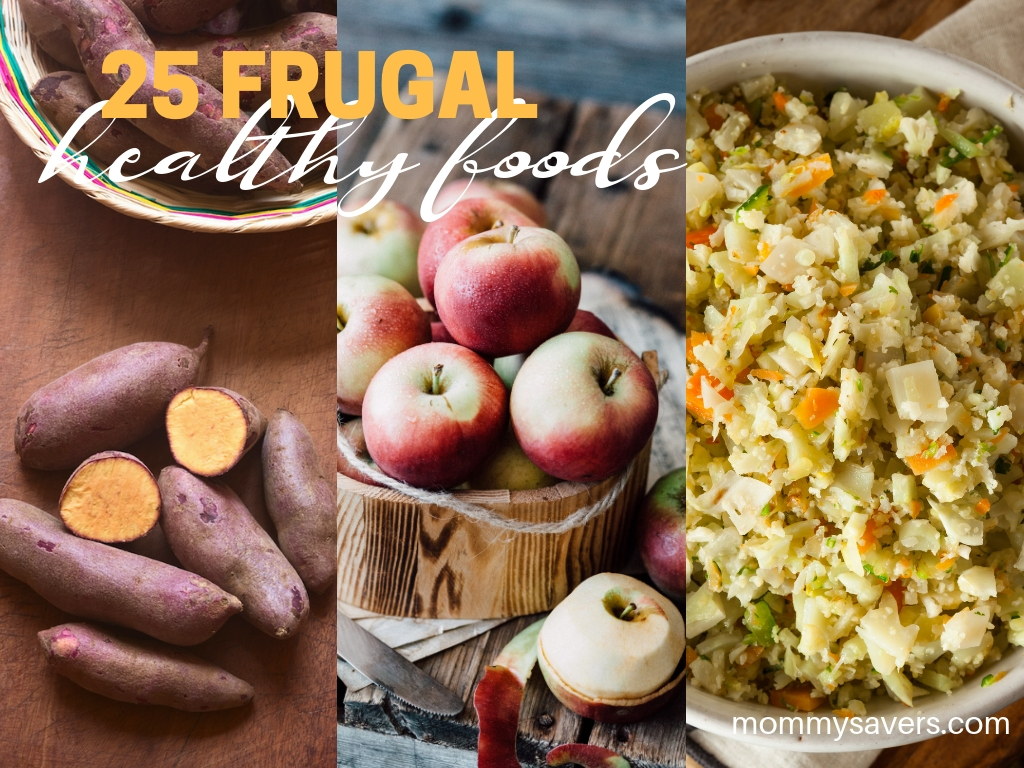 Healthy Foods… on a BUDGET
When your goal is to save money on groceries, don't just look at price alone.  You want to get the most NUTRITION for your dollar.  Too often, people try to save money on cheap foods that may help their budget short-term, but over time can lead to weight gain, or even worse… illness and disease.  As the saying goes, "You can pay the farmer now, or the pharmacist later."  Please don't sacrifice long-term health and wellness to save a little money. I'd MUCH rather pay the farmer now.
That said, that doesn't mean you have to spend a lot to eat healthy, hearty, nutritious foods.  When coming up with a menu plan of cheap meals, these frugal healthy foods can serve as the main component. Here are some foods that are CHEAP… but also nutritious.
Cheap Meals Start with These:
Eggs – loaded with protein, they're also versatile.  Not just for breakfast, either!
Rice – whether it's brown rice or white rice, you get a lot for your money.  Opt for brown rice for the added fiber.  Experiment with different types; jasmine, basmati, etc.
Beans – save even more by purchasing dried beans and soak them overnight.  If you have an Instant Pot, they're easy to prepare quickly.  You can even freeze them!
Almond milk – a good inexpensive source of calcium and vitamin D
Turkey, whole – Turkey is a very rich source of protein, niacin, vitamin B6 and the amino acid tryptophan
Chicken, whole – Chicken breast is an excellent source of low-fat protein, which is great for maintaining muscle mass
Tuna, canned – Another great inexpensive protein source that's easy to keep in the pantry for quick access
Whole-grain pasta – fiber-filled, and versatile
Tomatoes – canned tomatoes are full of phytonutrients that can help fight free radicals and prevent disease
Frozen green and cruciferous veggies: peas, green beans, cauliflower, broccoli, etc.  Because they're frozen soon after they're picked, they retain most of their nutritional value.
Frozen berries – Like frozen veggies, frozen berries retain their nutrients and are often much less expensive than their fresh counterparts
Bananas – A great source of potassium and fiber.
Apples – buy bagged apples in bulk to save even more!
Oranges – their vitamin C boosts immunity, but research has also shown that a compound called D – limonene present in oranges can prevent various types of cancer like lung cancer, breast cancer, skin cancer, etc.
Potatoes – a good potassium source
Pumpkin – The fiber, potassium, and vitamin C content in pumpkin all support heart health.  Plus, get the WHOLE pumpkin and toast the seeds, which are also highly nutritious!
Squash – A good source of vitamin A, vitamin C and potassium.
Cabbage – great for use in salads, slaws, and soups – high in Vitamin K and C yet low in calories
Carrots – great for crunchy snacks, but also good in soups, stews and salads.  Rich in Vitamin A and antioxidants
Spinach –  a plant-based source of iron and packed with antioxidants
Kale – this bitter green goes well in salads.  Try adding fruit for sweetness!
Plain Greek Yogurt – a rich source of protein
Peanut butter – calorically dense, a little goes a long way.  A good source of healthy fats and plant-based protein
Whole grains (oatmeal, quinoa, grits, etc.) – experiment with unique ways to prepare them, as they're incredibly versatile.
Lentils – like beans, lentils are great vegetarian protein source.  Because of their small size, they take time off the soaking process.