I often say that certain treats are easy to make, but these Halloween Oreo bat cookies aren't just easy… they're fast.  I made two dozen in about half an hour.  I only needed three things to make them, and they look like I spent a lot more time than I actually did!
Supplies for Oreo Bat Cookies:
2-3 chocolate melting squares or "Candy Kwik"
1 pack Oreos
Instructions for Oreo Bat Cookies:
Break the Oreos in half, one is for the front of your bat, the other for the back.  You'll also need to break some Oreos in half, then CUT each wafer in half to form the bat's wings.  I used a knife to do this, but you have to cut very carefully so the cookie doesn't completely fall apart.
Meanwhile, melt the chocolate candy squares in a bowl in the microwave, in 20-30 second increments, stirring in between, just until melted.  Be careful not to overdo this, otherwise your chocolate will burn.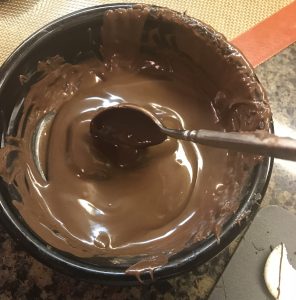 Spread a little bit of chocolate on the back of the first waver, using it as the "glue" that will secure the bat wings to the inside of your cookie.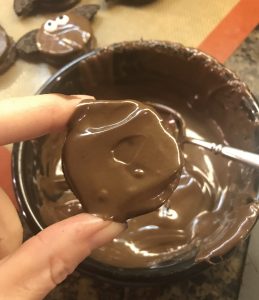 Gently press the bat wings onto the chocolate-coated cookie.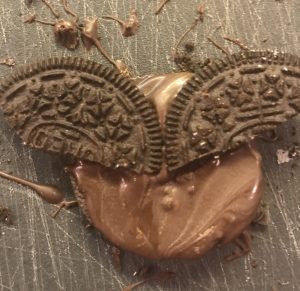 Do the same thing with the top cookie layer, spreading it with melted chocolate first, then placing that second layer on top of the bat wings to cover them.  Next, place the Wilton Candy Eyes on the top of the cookie.  Set aside and allow the chocolate candy to set.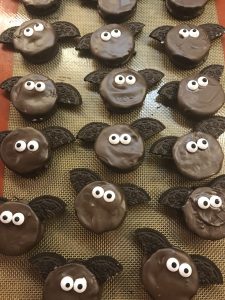 Store in an airtight container.